Herby Noodle and Peanut Salad
Hearty Noodles, Citrusy dressing, Tasty Herbs and Crunchy Peanuts. Make this Fast and Fabulous salad today!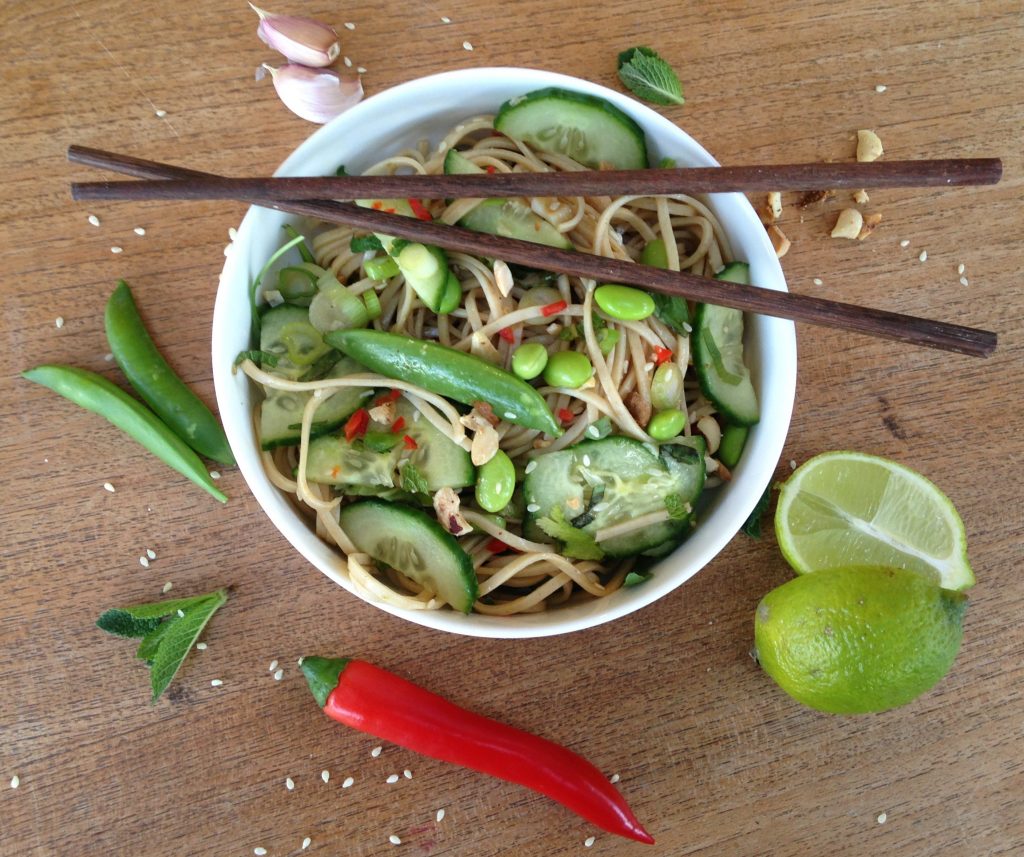 This is a delicious noodle salad. Perfect for when the days start to get warmer and we are looking for lovely fresh foods, but hearty enough to fill us up and ensure we are satisfied.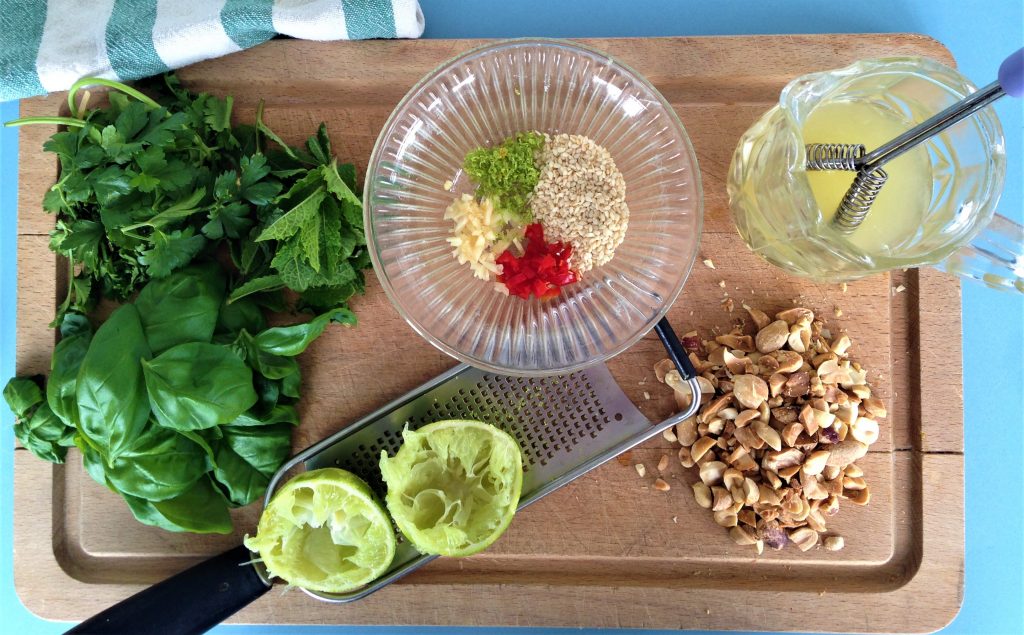 Noodles are always really fun to eat and their shape makes them ideal for taking on the flavour of the zingy dressing that makes this salad so yummy. You could use any type of noodle you like in this salad – delicate rice noodles would be good and I also like it with long spirally courgette noodles. Here I have used substantial wholewheat noodles.
These are cooked first and then coated with some of the dressing to give them a citrussy tang.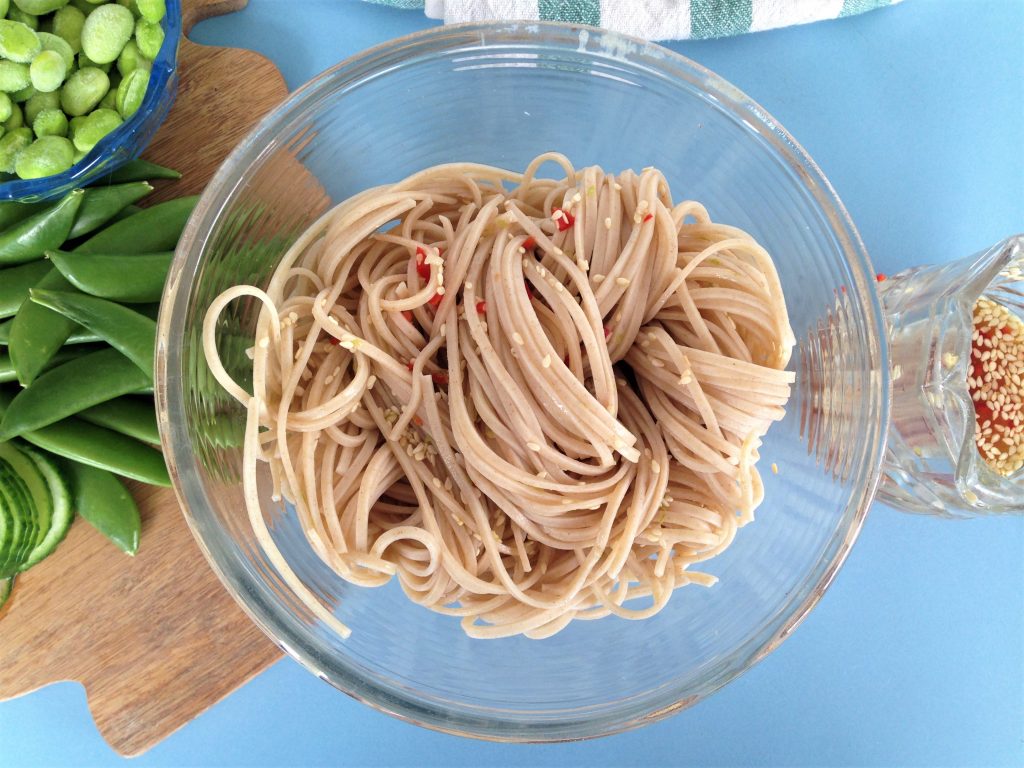 The dressing is made of sharp rice vinegar, zesty lime, warming chilli, savoury soy sauce, flavoursome garlic and nutty sesame seeds, with a hint of sweetness from maple syrup. No oil necessary!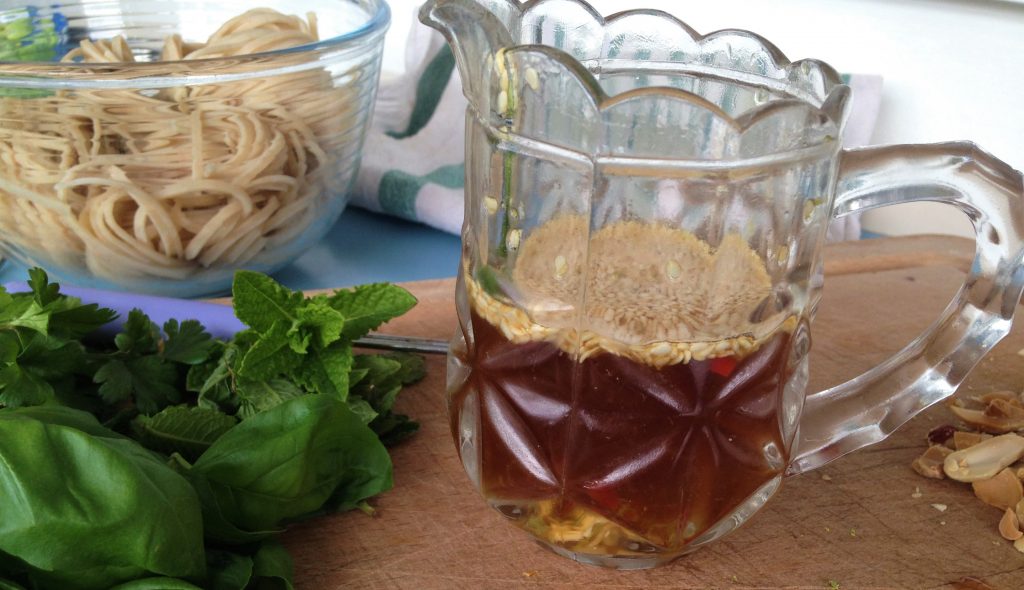 My preferred vegetables are cucumber, which always goes so well with sharp dressings, spring onion, crunchy sugar snap peas and lovely bright edamame beans for a tasty protein boost. You could use fine green beans, baby sweetcorn, thinly sliced courgettes, garden peas – there are lots of possibilities here – and the salad can easily be adapted according to which vegetables are in season.
The cucumber and onion are finely sliced and then tossed with the noodles along with the rest of the vegetables.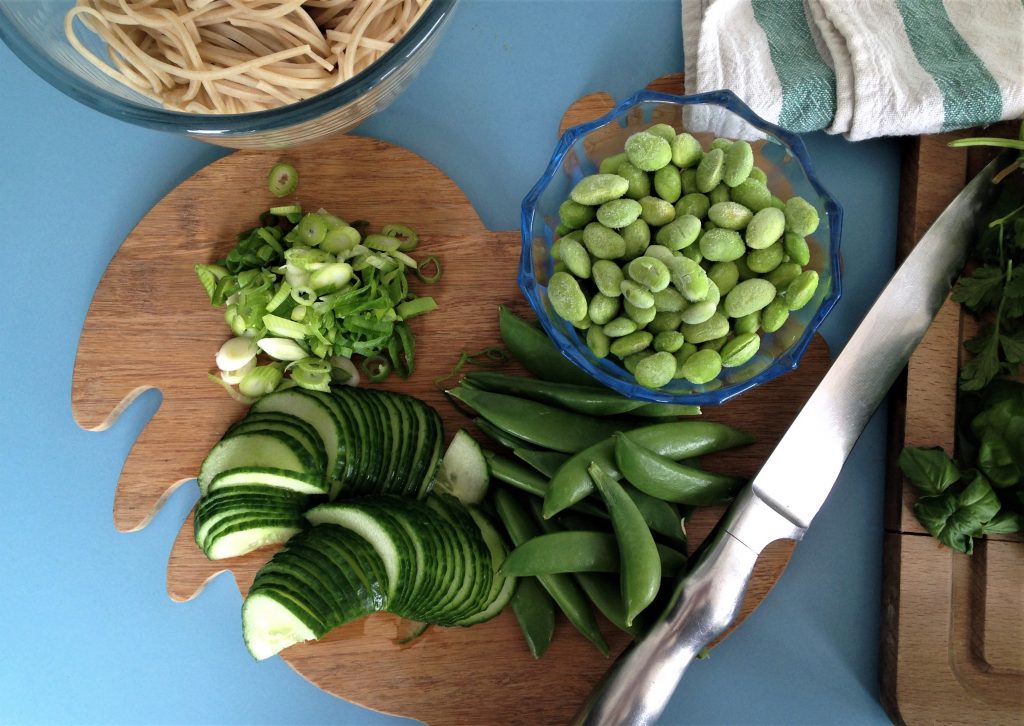 A mixture of fragrant herbs – coriander, basil (Thai if you can get it – it has a lovely aniseed flavour), and mint give this salad a fabulous fresh flavour  The herbs lift the salad to new heights of deliciousness – please don't leave them out!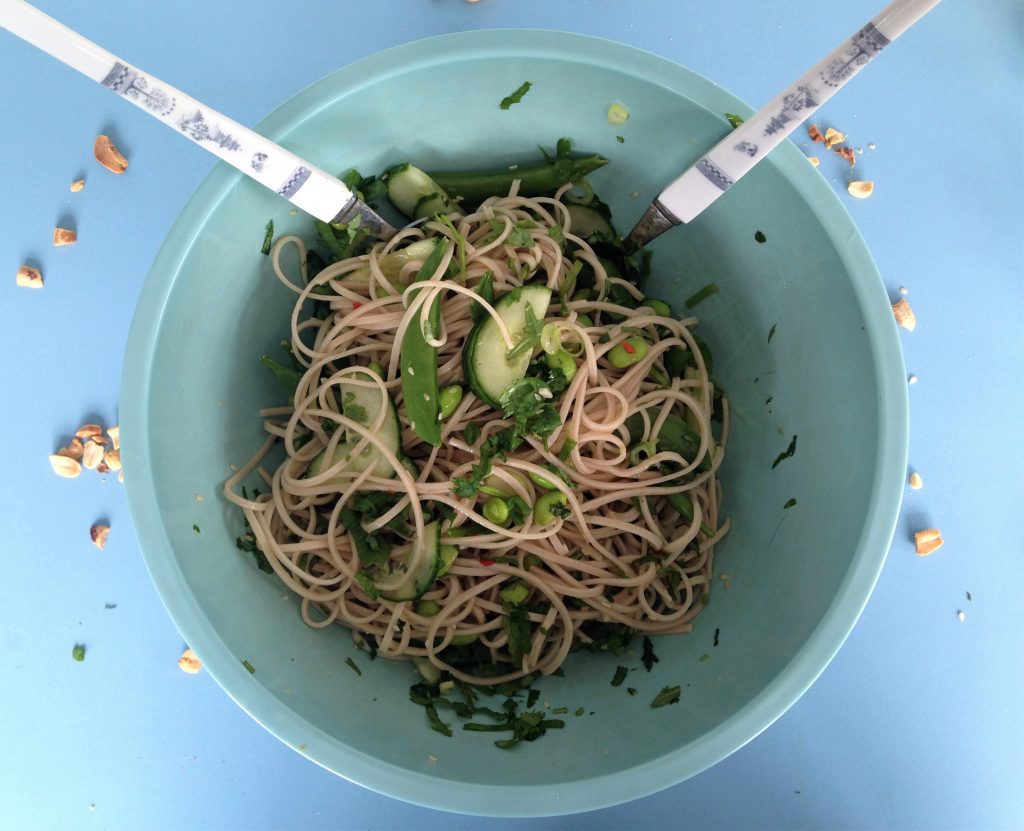 The herbs are finely sliced and gently combined with the noodles and vegetables. Then the remaining lime and sesame dressing is drizzled over.
Golden roasted peanuts make a tasty crunchy topping and they contrast wonderfully with the soft noodles. The peanuts are roasted in the oven until they are golden and fragrant and then chopped into smaller pieces. Almonds or cashew nuts would also work well with this salad if you don't eat peanuts.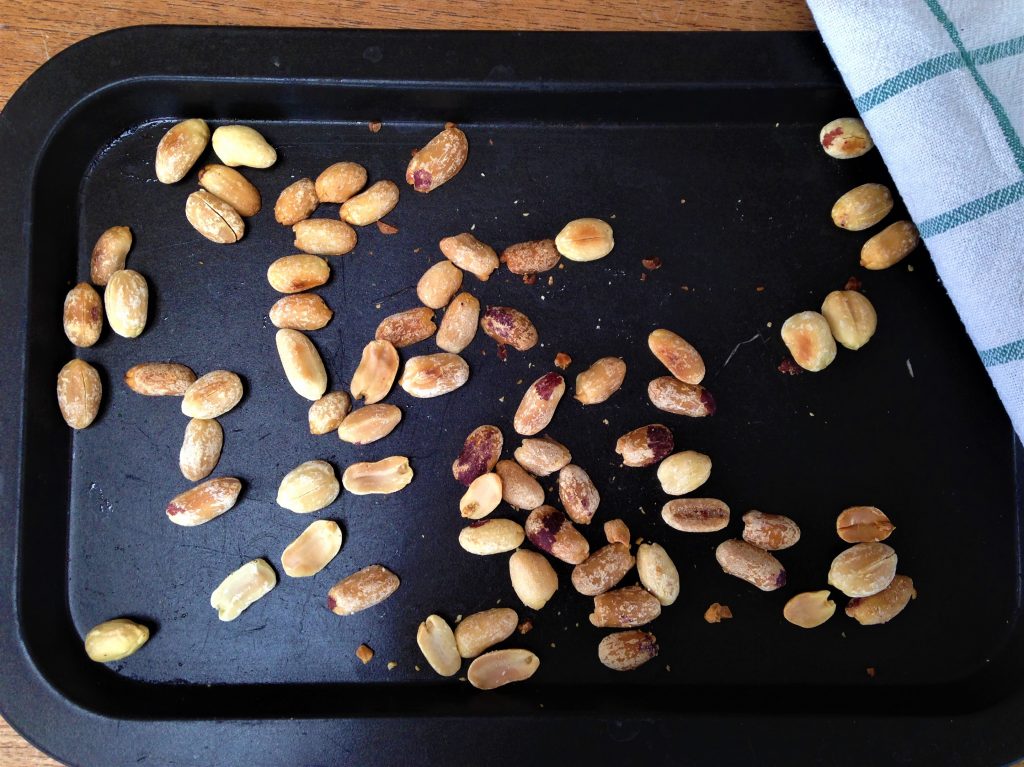 The salad is served with a scattering of the peanuts on top and it made extra yummy with some additional soy sauce and chilli sprinkled over.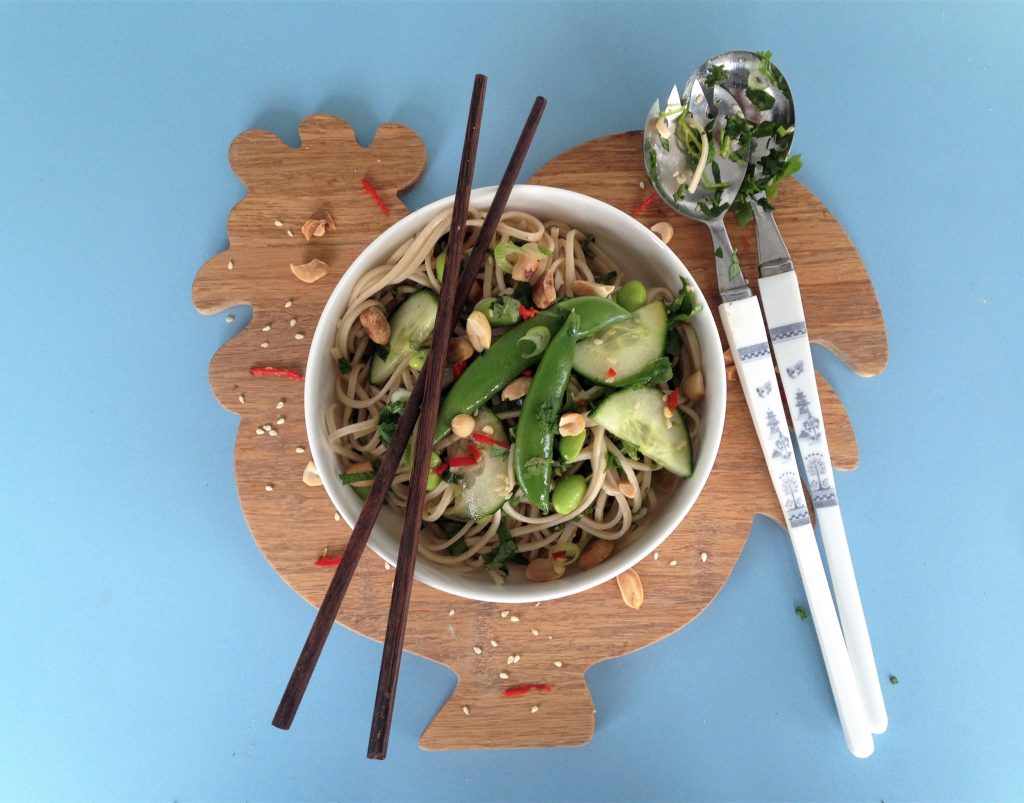 If you try this recipe, please let us know what you think.
Leave a comment, share the recipe on facebook or tag a photo on instagram #plant_powered_pantry
Place the nuts on a tray and roast in the oven at 180 until golden brown. Keep checking them as it's easy for them to burn. Bash them gently in a pestle and mortar or chop with a knife to break them up slightly.

Toast the sesame seeds in a dry frying pan until golden and fragrant.

Put the noodles in a large bowl and cover with boiling water. Place a lid/plate over the bowl to allow the noodles to soften (around 10 minutes). Drain.

Whisk all of the dressing ingredients together. Pour half of the dressing over the warm noodles and allow to cool.

Toss the vegetables with the noodles, then mix in the herbs.

Drizzle the salad with the remaining dressing, then divide between 4 bowls.

Sprinkle the peanuts over the top and enjoy with some extra soy sauce and chopped chilli if you desire.
---
---