Instant Tropical Fruit Nice-Cream
Sweet, creamy Tropical Fruit Nice-Cream. One taste takes you to a Caribbean beach. Palm trees swaying and waves lapping at your toes…. Sort of.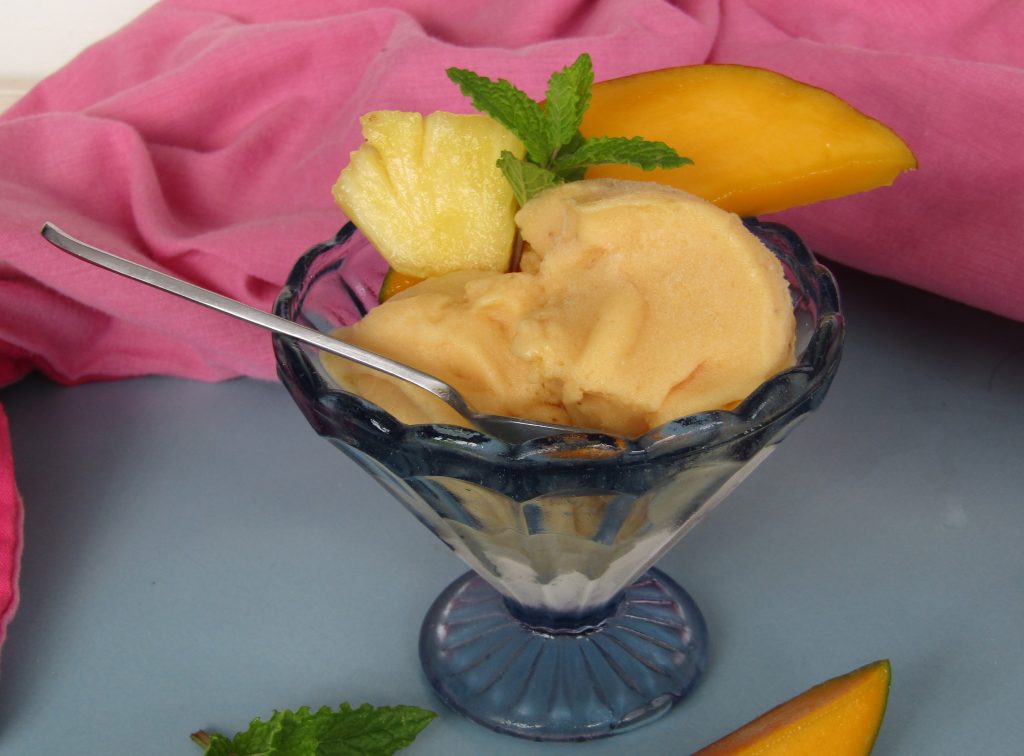 It is so nice to experience some warm sunny days at last. And when the sun is shining, all thoughts turn to ice cream (mine do anyway).
There is no need to miss out on ice-cream with a whole food plant based way of eating. There are plenty of options for making delicious, creamy ice-cream with no dairy, refined sugar or oil.
If you are not already acquainted, let me introduce…Nice-Cream!
Nice-cream is usually made with a base of frozen bananas. When they are blended in a food processor, they become creamy, light and smooth – giving an amazing ice-cream experience in no time at all. Nice creams can be created with lots of different flavours, from plain banana to decadent chocolate. There is a combination to suit anyone. Even if you are not a banana fan, quite a lot of the intense banana taste is muted when frozen and mixed with other ingredients.
Nice-Cream is so simple, it takes only 5 minutes and a Food Processor to make.
No cooking,
No cooling,
No churning
No waiting for it to freeze.
In other words, perfect for when and ice-cream craving hits (of course, we don't have to wait for sunshine).
Tropical fruit always hits the spot when I fancy something sweet, and today I wanted something light and refreshing. Tropical fruit nice-cream was born.
All we need are 3 simple ingredients:
Frozen Mixed Tropical Fruit
Frozen Banana (I always keep a stash of over ripe banana chunks in the freezer for smoothies and nice-cream. The riper your banana is when you freeze it, the sweeter your nice-cream will be)
Coconut milk or cream (or any plant milk that you like).
The fruit mix that I used consisted of Pineapple, Mango and Papaya – sweet, exotic and delicious.
The banana adds an amazing natural sweetness whilst the coconut milk or cream helps the nice-cream to become extra smooth, creamy and totally yummy.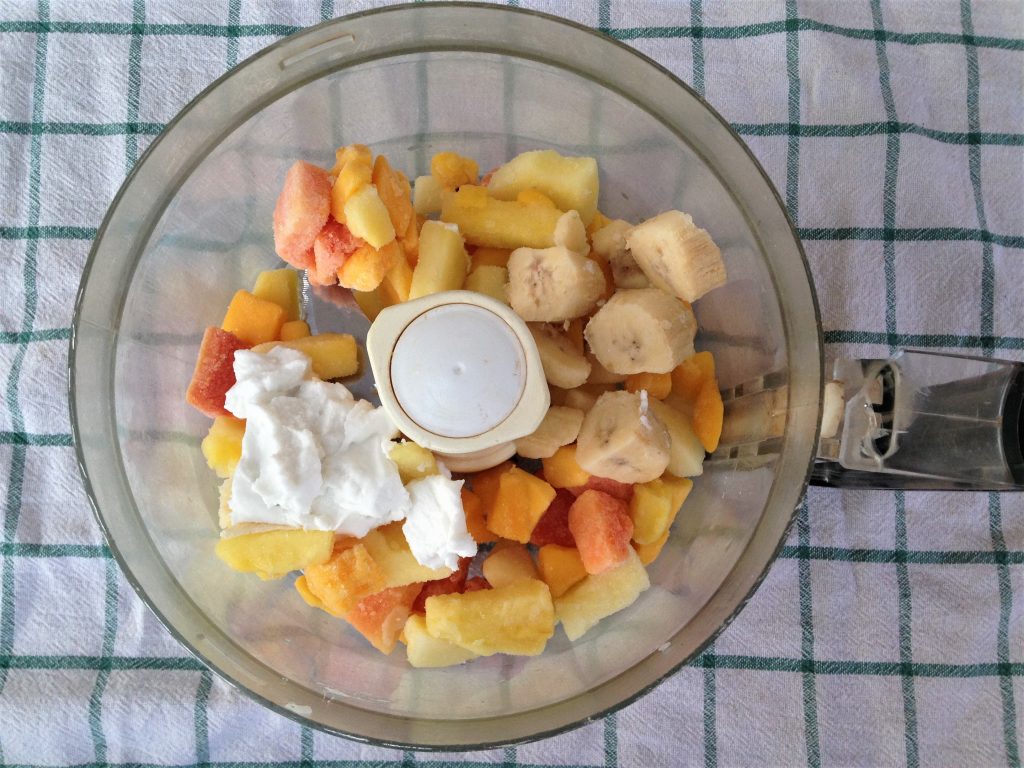 All we have to do to make delicious Tropical Fruit Nice-Cream is to put our 3 ingredients into a food processor and whiz it up until it becomes deliciously smooth and creamy. This should take around 5 minutes, stopping every now and then to scrape down the sides.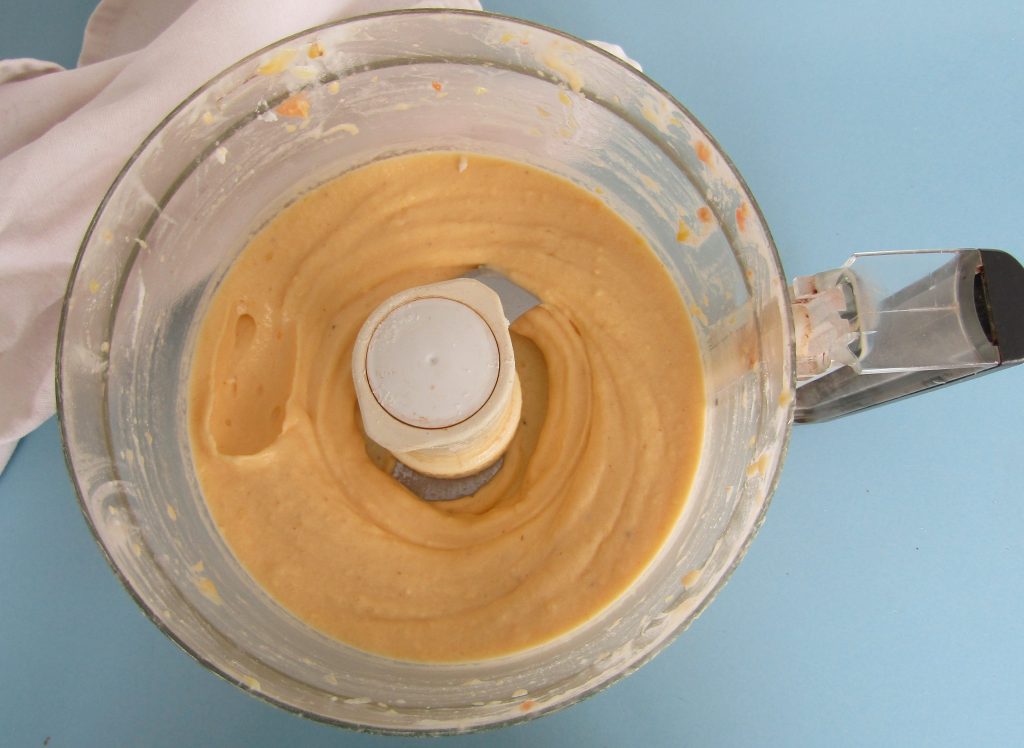 Once is it all combined and smooth, you can enjoy it straight away as a very soft scoop nice-cream, or if you would like a firmer texture you can put it in a container in the freezer for around half an hour to an hour (or you can eat some now and have some later – my preferred way).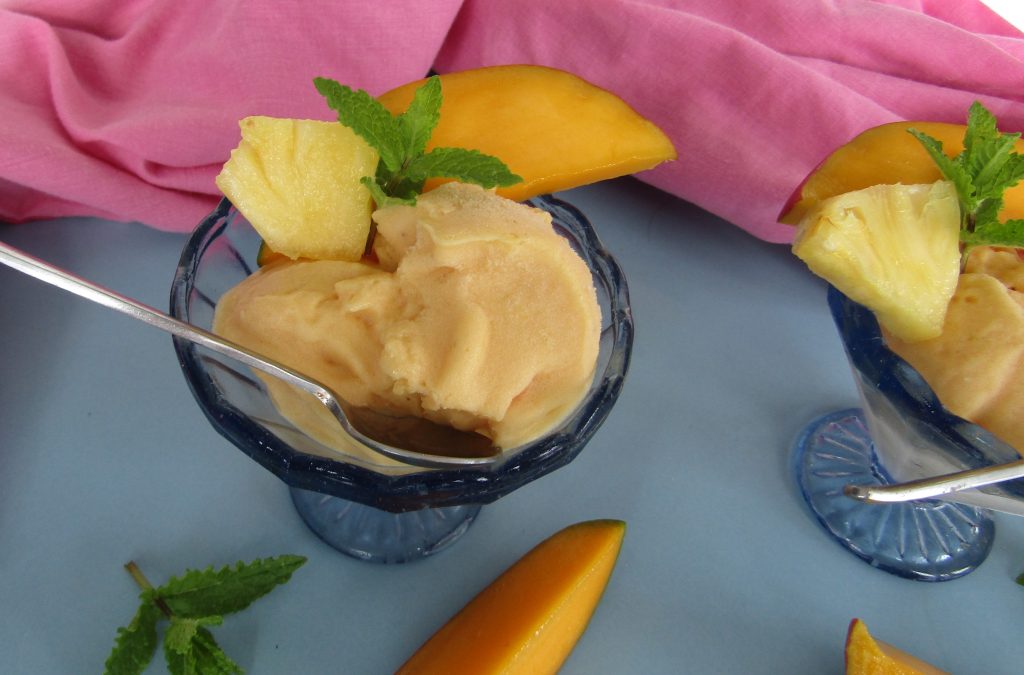 My children really love this, even though my one child apparently hates pineapple and mango and the other won't touch banana or coconut! The best thing about it is, I can allow my children to eat it without worrying about the refined sugar or fat content and I know that they are enjoying a healthy treat.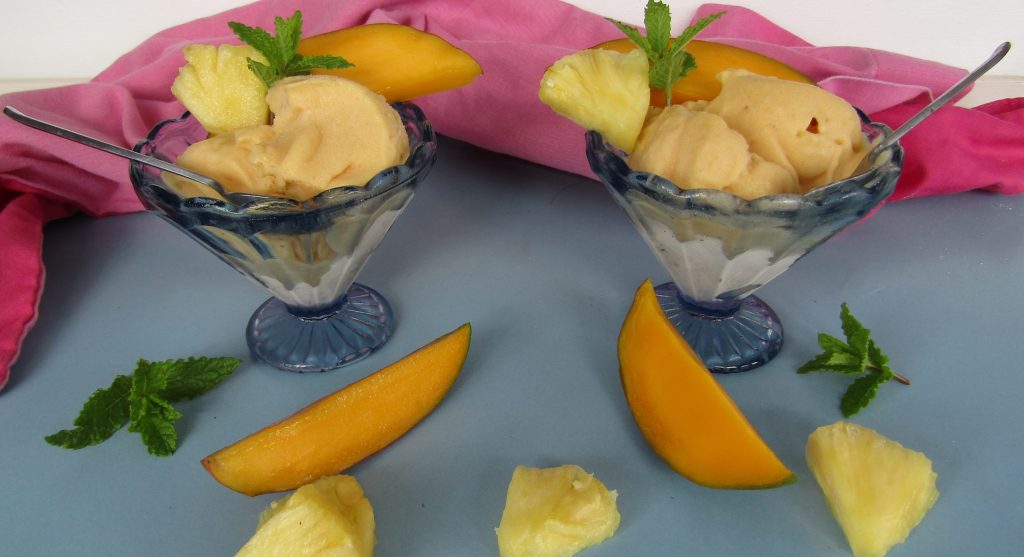 If you try my Instant Tropical Nice-Cream recipe, please let us know here in the comments. You can also tag a picture in Instagram and give us a like on Facebook.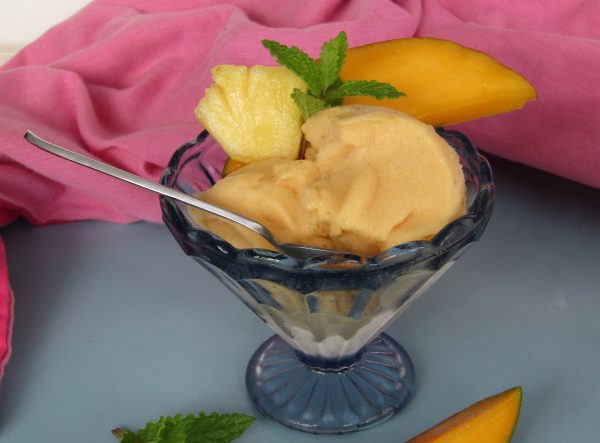 Add all ingredients to a food processor and whiz for around 5 minutes until the mixture is smooth and creamy.

You will need to stop and scrape down the sides a few times. It may seem that it will never become smooth but stick with it.

Serve straight away or freeze for 30 minutes - 1 hour in a container for a firmer nice-cream.

Yummy served with extra fruit.
---
---