Summery Carrot, Orange and Mint Salad
Try this zingy salad as a main course or an accompaniment. It is packed with Plant Power and will leave you feeling great!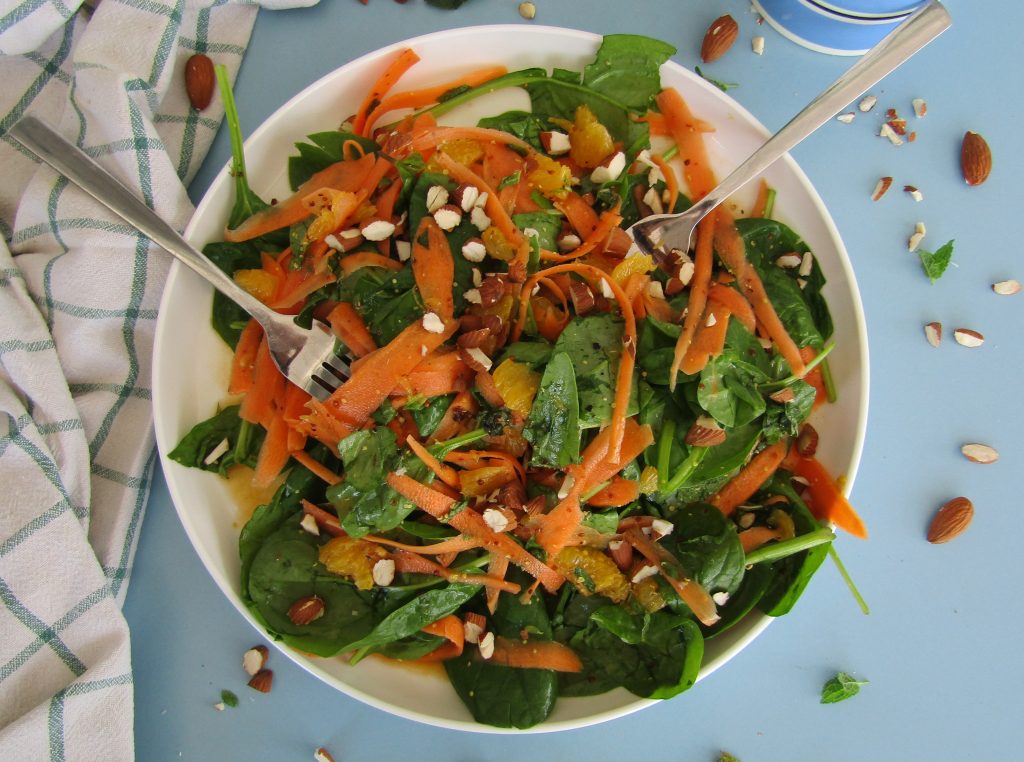 This is a really fresh summery salad, perfect for hot days. With a beautiful crunch from the carrots, a lovely sharp orange dressing, a minty hit and a fantastic healthy serving of spinach, you really can't go wrong!
Carrots are a super healthy vegetable. As well as being an excellent source of fibre, they are packed with carotenoids and beta-carotene. Carotenoids are antioxidants which can help to boost the immune system and reduce the risk of disease. Beta-carotene is converted within the body into vitamin A which helps with vision as well as bone and teeth health and is also important for good skin. As an extra bonus, they are also beautifully sweet and tasty.
Mint is growing in my garden at the moment and I am utterly addicted to it. I have been adding it to everything from soups to fruit salads. It is so fresh, it makes a perfect addition to any summer salads – especially when paired with juicy orange as it is here.
Spinach is a staple of our daily diet here at Plant Powered Pantry. Leafy greens play an essential role in a healthy whole food plant based diet and Spinach provides loads of Iron as well as being a great source of many vitamins, especially Vitamin K which is important for maintaining bone health. Remember how strong it made Popeye!
This salad is very easy to make and doesn't contain a long list of ingredients. It can be enjoyed on its own or as an accompaniment. I like it with steamed new potatoes or with some hummus as a topping for my Indian Style Flat-Breads.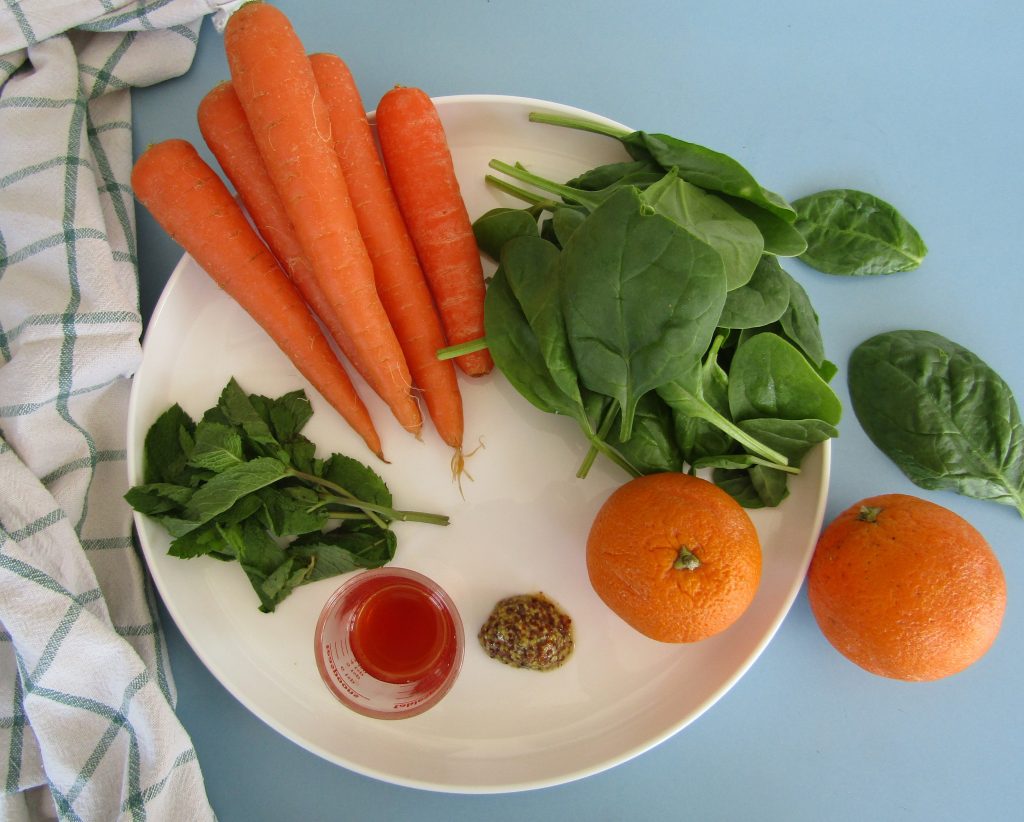 It is important to slice the carrots very thinly. If you have a mandolin slicer then this will be easy. Alternatively you can use a vegetable peeler (like I did), to create lovely long ribbons.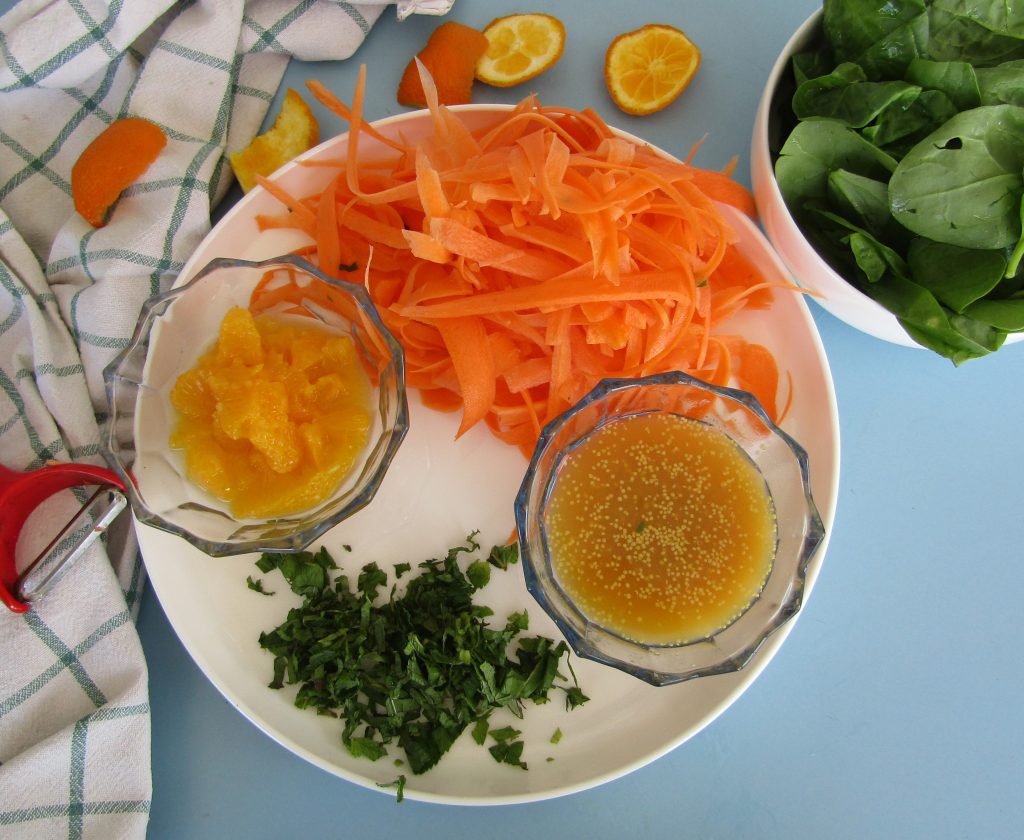 The oranges are segmented and then chopped into small pieces, any extra juice is squeezed into a separate bowl to be combined with whole-grain mustard and red wine vinegar to create the dressing.
The mint is finely sliced and combined with the carrot ribbons, spinach and orange pieces. The dressing is poured over and tossed with the salad.
Finally some toasted chopped almonds are sprinkled over to provide a yummy crunch.
Simple!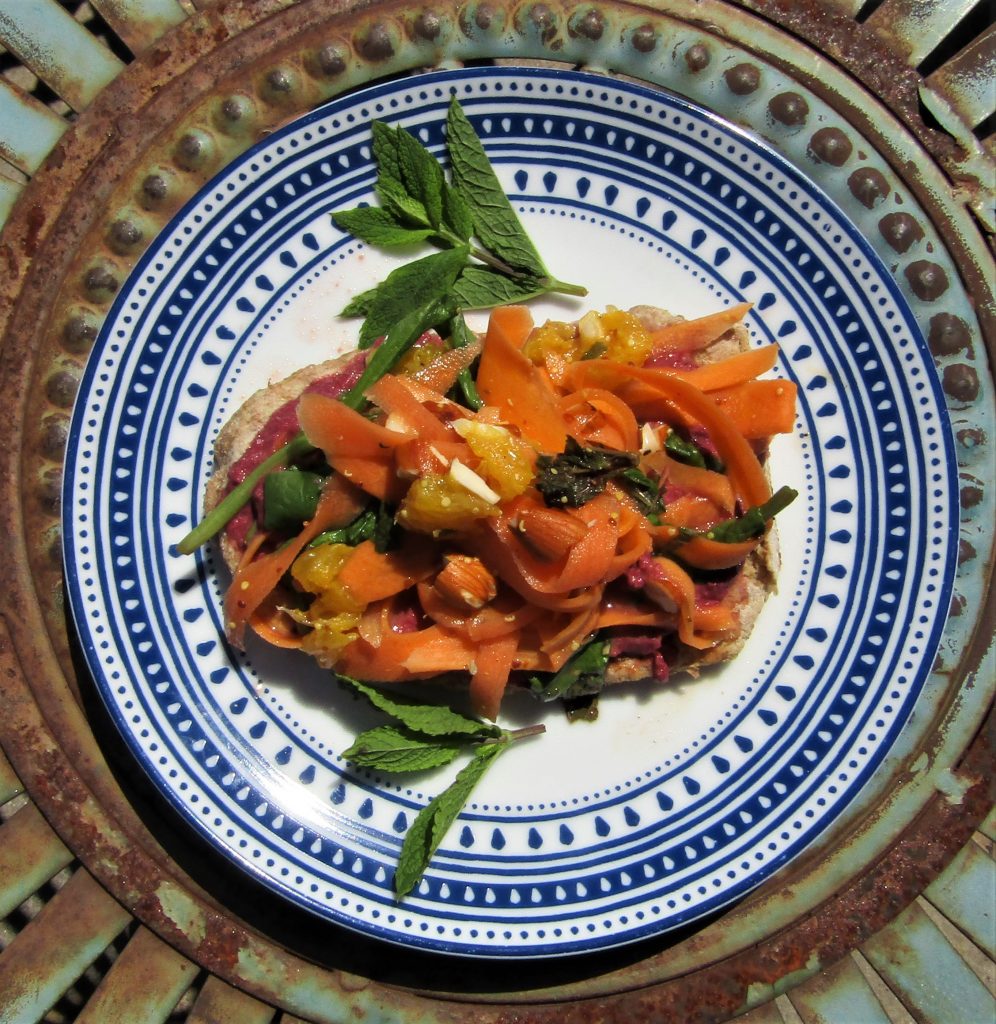 If you try my Summery Carrot, Orange & Mint Salad, please let me know here in the comments. You can also tag a picture @plant_powered_pantry on Instagram or like us on Facebook.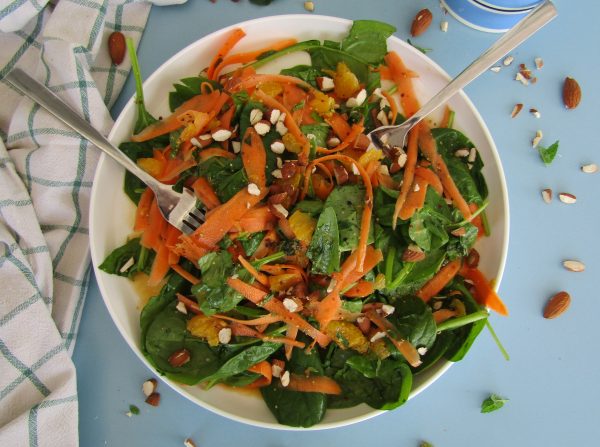 | | |
| --- | --- |
| | |
Toast the Almonds in a dry frying pan over a medium heat for a few minutes. Chop into rough pieces and set aside.

Slice the Carrots into long ribbons using a mandolin or vegetable peeler. Alternatively, slice thinly into half moons.

Segment the Oranges, catching as much juice as possible in a bowl. Cut each segment into 2-3 pieces and add to the carrot ribbons.

Slice the Mint thinly and add to the Carrots and Oranges along with the Spinach.

To make the dressing, add 1tbsp Red Wine Vinegar to the Orange Juice along with the Mustard and some Salt and Pepper. Taste and add more Red Wine Vinegar and seasoning as required.

Pour the dressing over the salad and toss together. Serve the salad topped with the crunchy toasted Almond pieces.
To segment the orange:
Slice the top and bottom off the orange to make a level surface for it to stand.
With a sharp knife, remove the skin and white membrane from the orange by slicing from top to bottom.
Holding the peeled orange in your hand, cut down each side of a segment, into the middle, allowing the segment to fall into a bowl. Repeat for the rest of the segments.
Squeeze the remaining membrane over a bowl to collect any juice.
---
---