Carrot Cupcakes
Moist, spiced cupcakes with a creamy cashew icing, topped with a crunchy walnut. Try these Carrot Cupcakes today!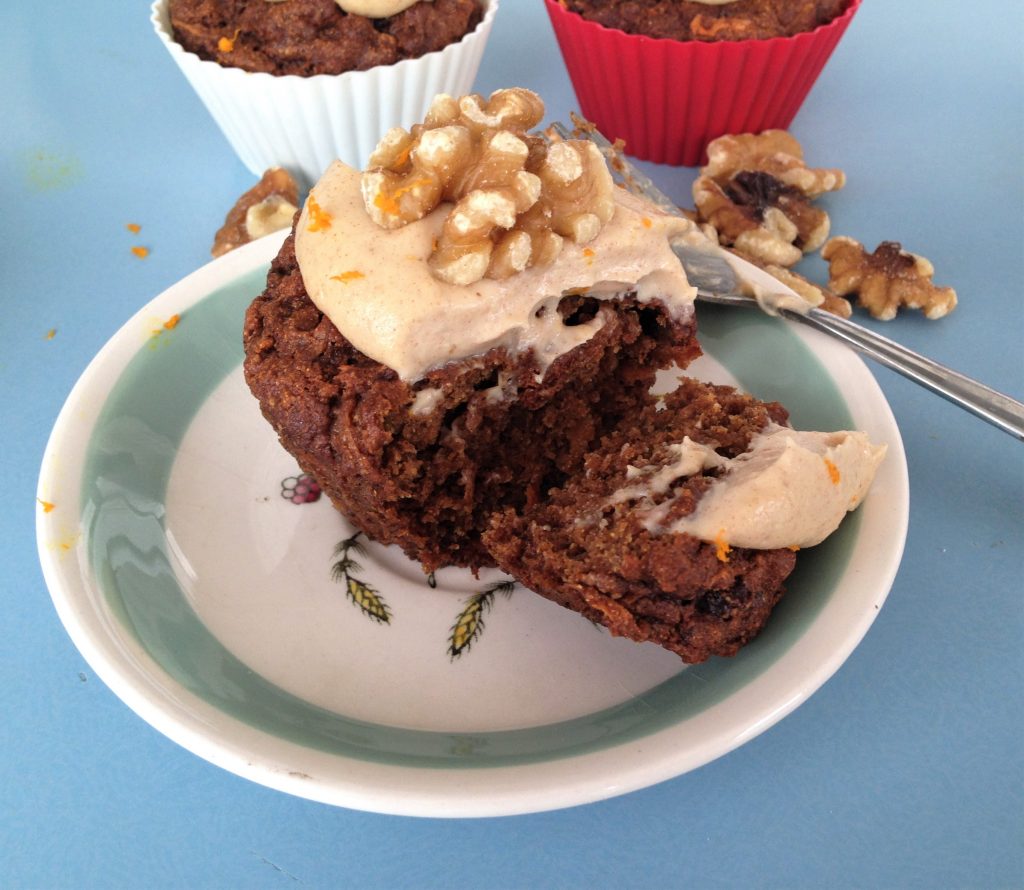 Who doesn't love carrot cake? Fragrant Cinnamon, Ginger, Nutmeg and Cloves, paired with juicy raisins in a light moist sponge. I personally can never resist a slice.
Well here it is in cupcake form so you don't have to share!
Carrots are high in fibre and beta-carotene. They are also good sources of vitamins A, C and K and are rich in folate, potassium, manganese, iron and copper. All the more reason to eat carrot cake on a regular basis!
The cupcakes have a base of applesauce and non-dairy milk. Delicious dates, coconut sugar and maple syrup give sweetness and I used my favourite flour of the moment – Wholemeal Spelt which always produces lovely light cakes. As well as the spices, orange gives extra flavour and yummy orange soaked raisins give little pops of juicy sweetness in each bite.
Applesauce is amazing for plant based baking. It acts as a replacement for fat and eggs, adds moisture and binds, whilst cutting out the saturated fats and cholesterol in our yummy bakes. It also adds a bonus sweetness to the cakes. It is very easy to make and freezes perfectly so that you can always have some on hand for baking. See how to make it here.
The icing on fabulous cupcakes is made from cashews blended with vanilla, maple syrup and a little non-dairy milk and lemon juice. It is sweet, creamy and smooth – everything you could wish for in a delicious healthy icing.
Each cupcake is topped with a walnut half for extra antioxidants and omega 3 benefits. These cupcakes really are health food in a naughty looking disguise.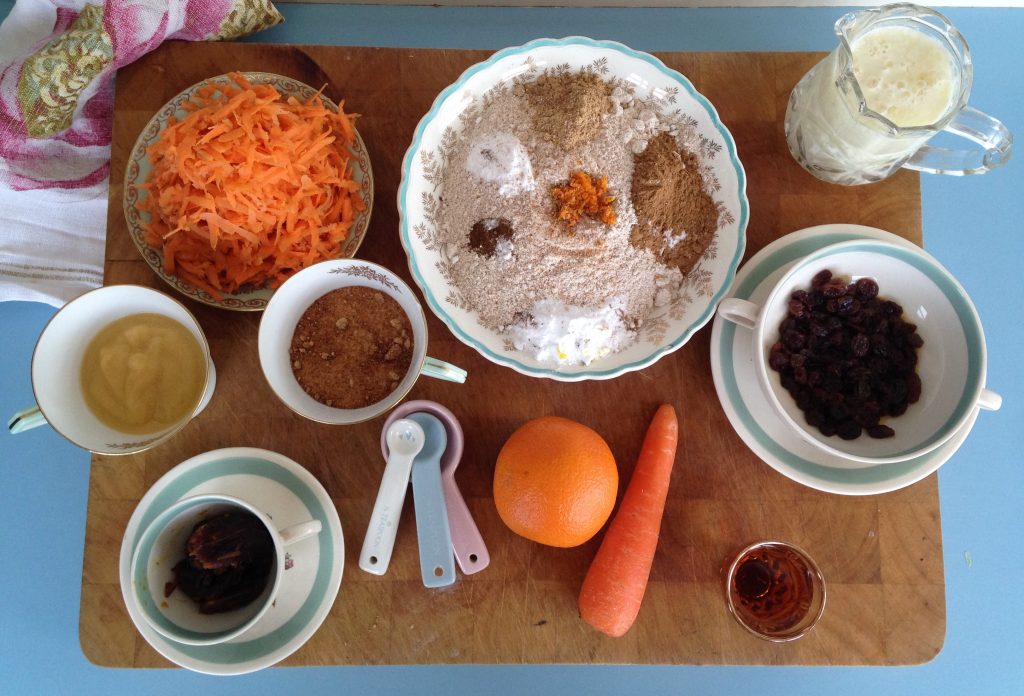 First the raisins are soaked in the juice of an orange to make them extra juicy and tasty. If you can do this the night before you bake then even better.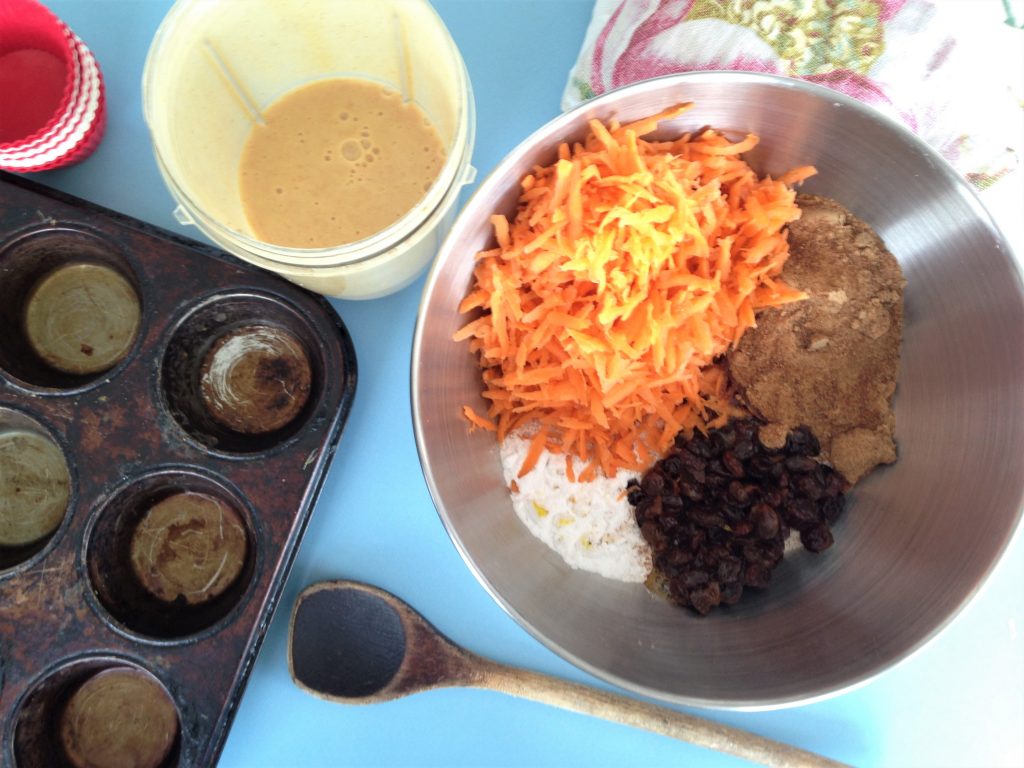 The milk, lemon juice, maple syrup, applesauce and dates are blended together and then mixed with the flour, orange zest, spices, coconut sugar, grated carrot and raisins. Simple!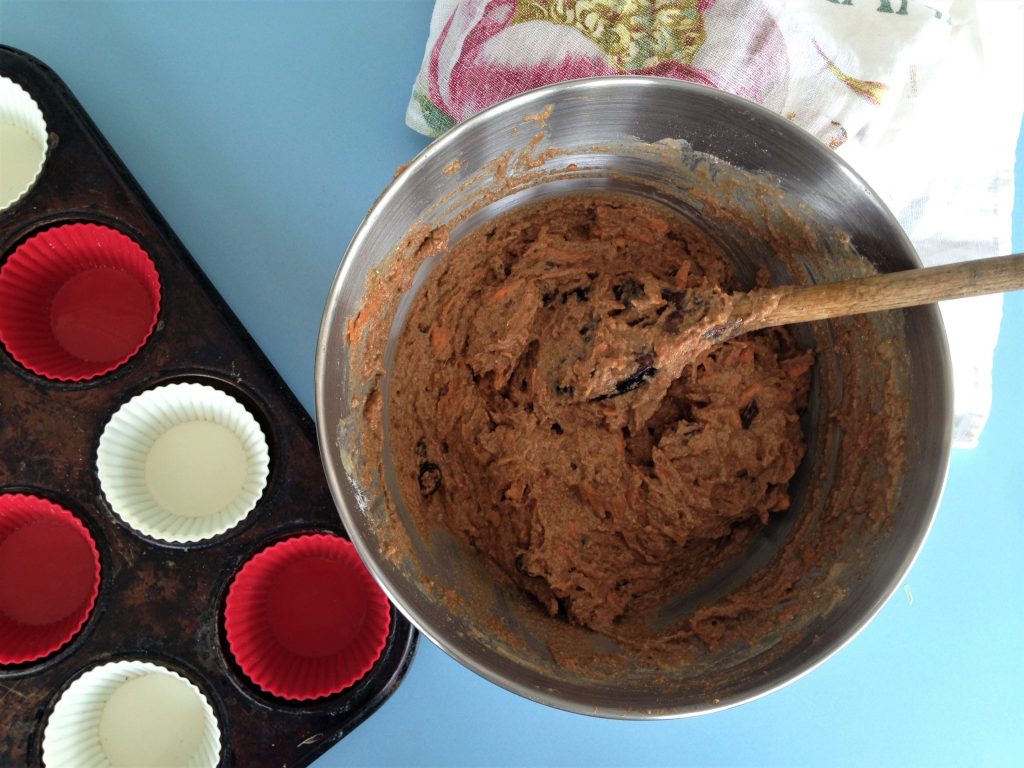 Fill your cupcake cake cases 2/3 full and bake for around 25-30 minutes.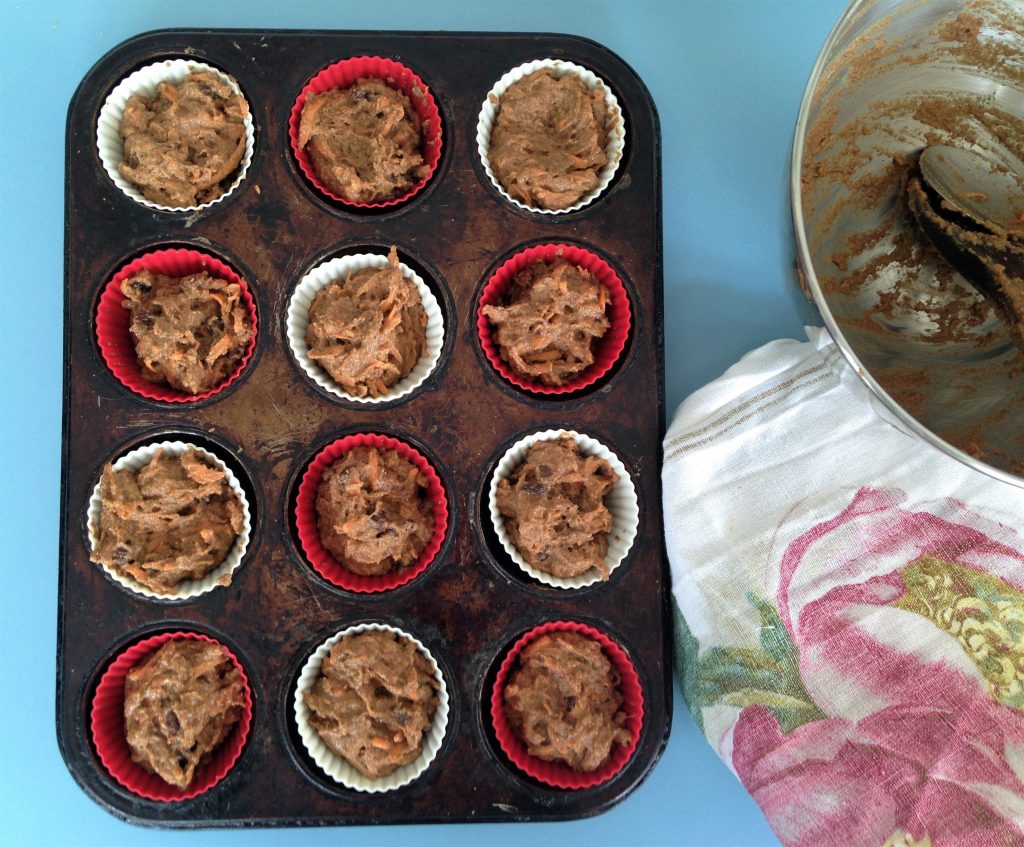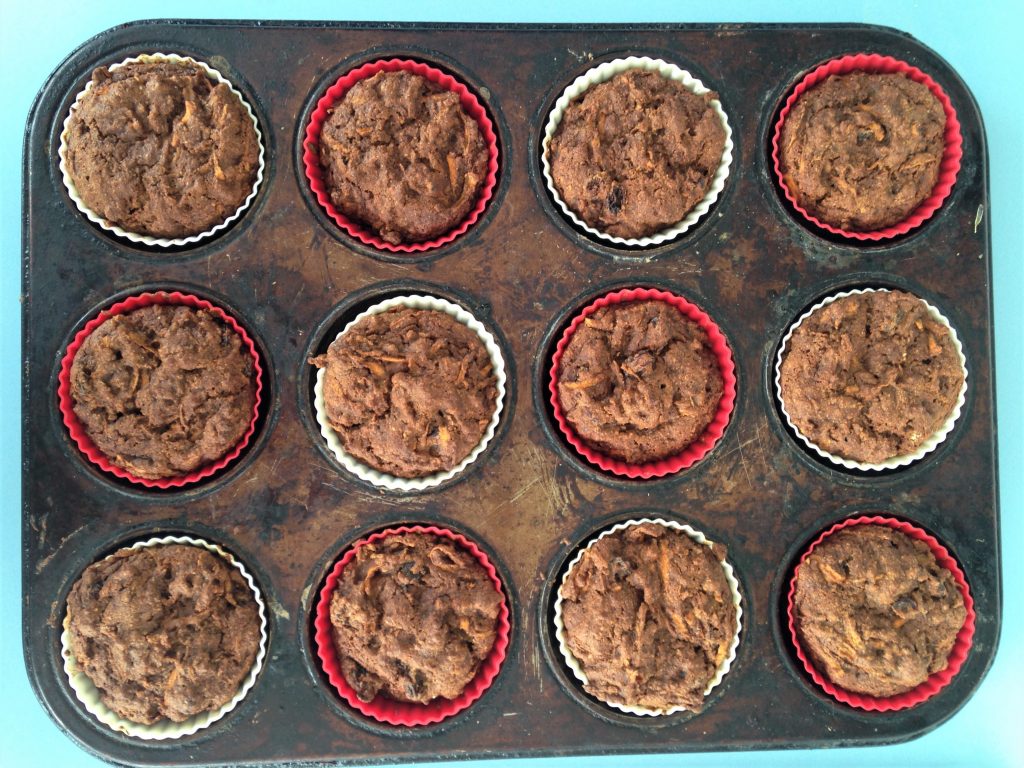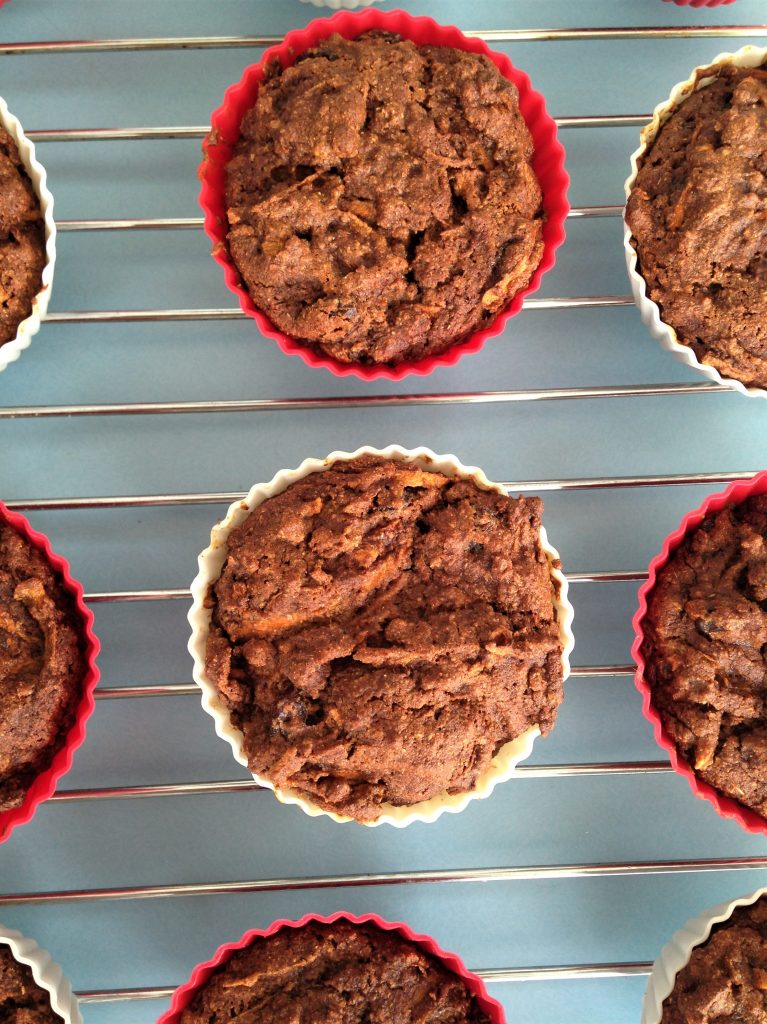 For the cashew icing, soaked cashews are blended with vanilla extract, maple syrup, almond milk and lemon juice until gloriously creamy and smooth.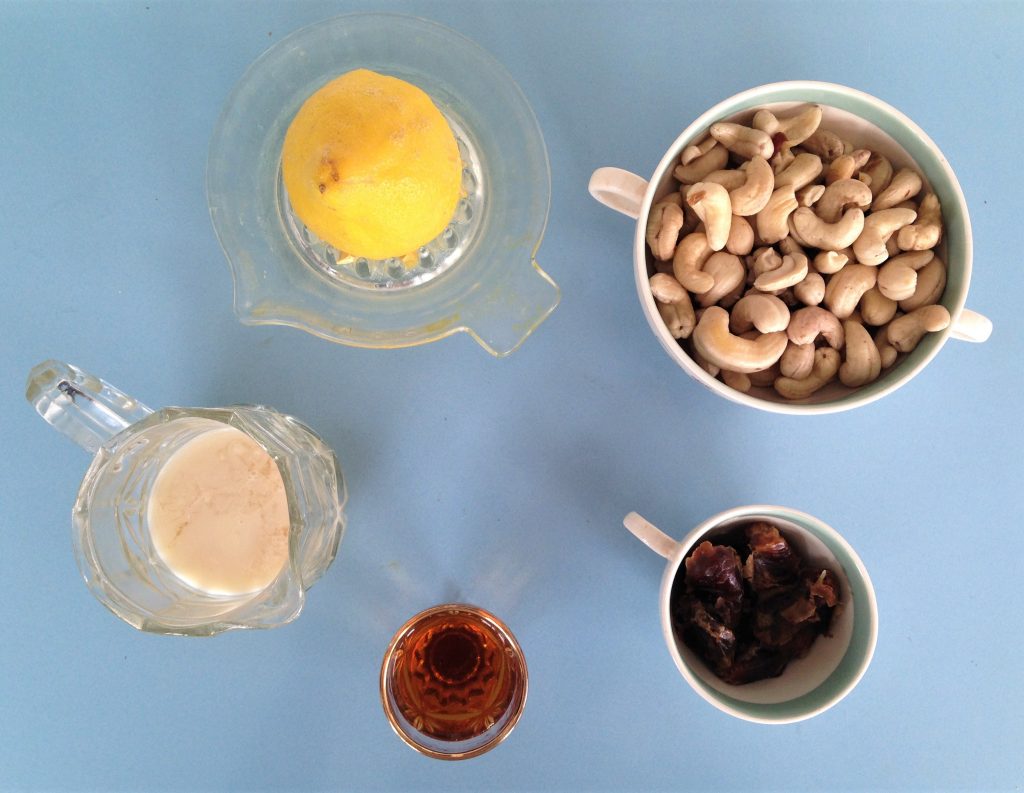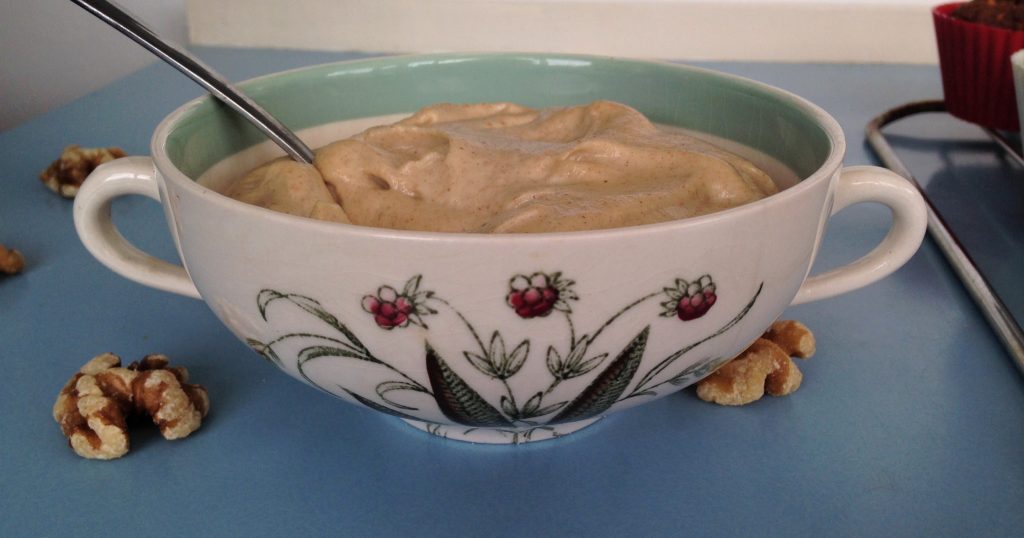 The cupcakes are adorned with the delicious icing and topped with a walnut half and some fragrant grated orange zest.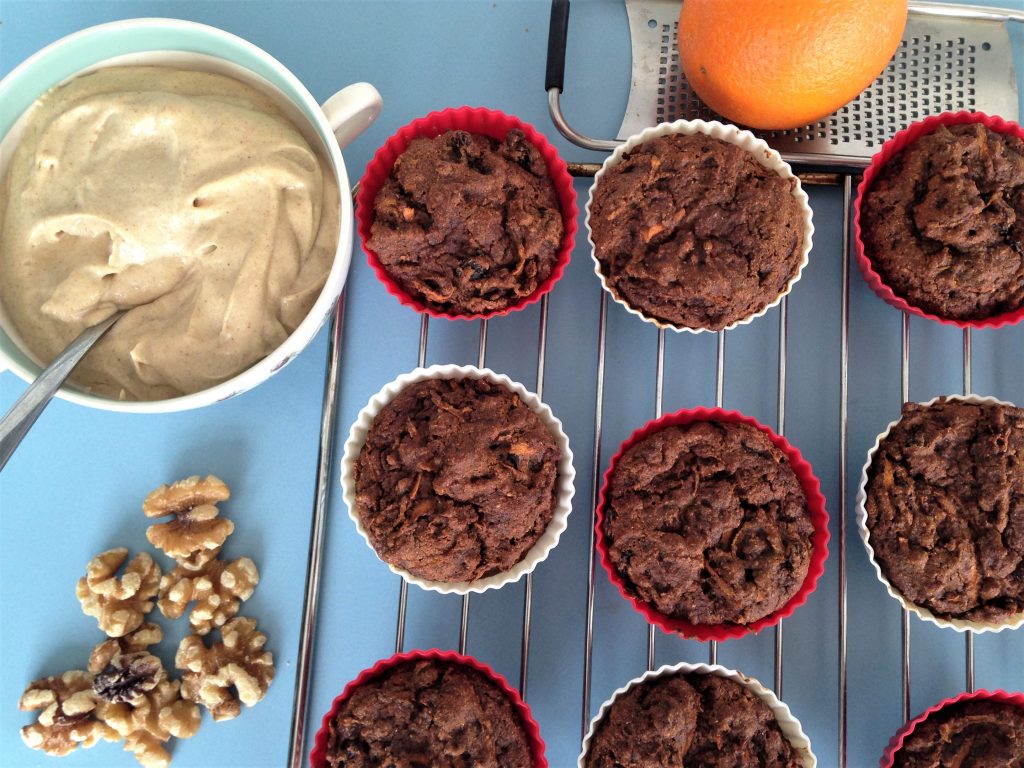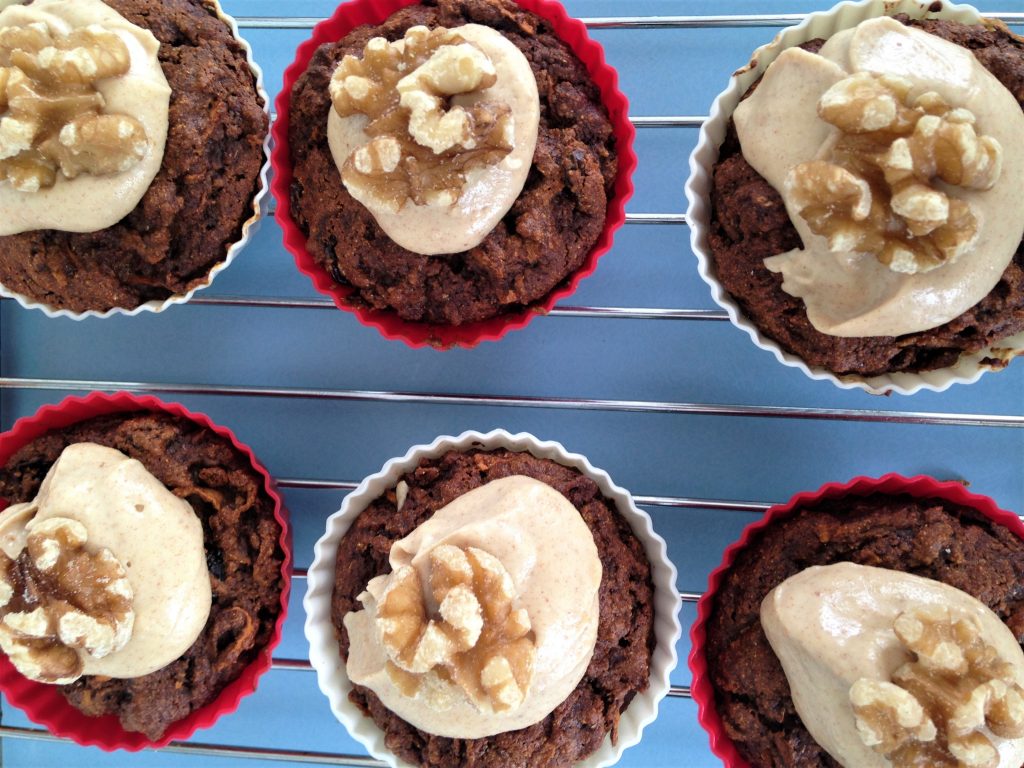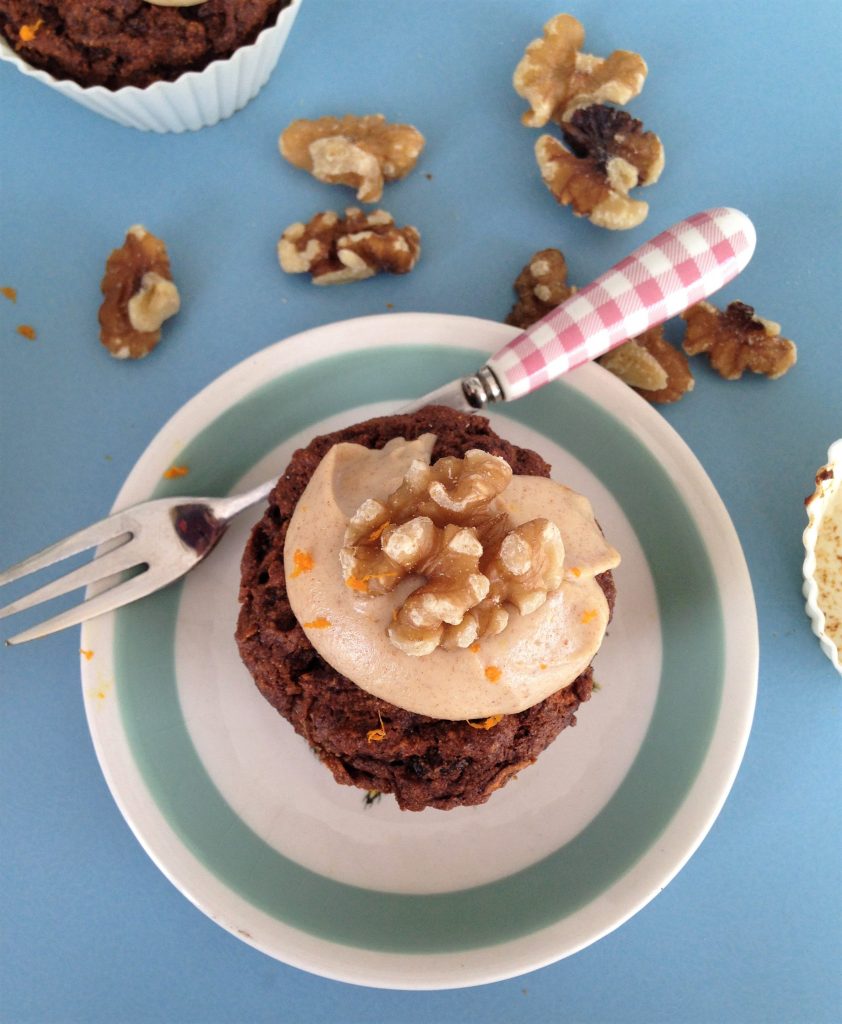 If you give the Carrot Cupcakes a try, please let us know here in the comments. You can also tag a picture in Instagram and give us a like on Facebook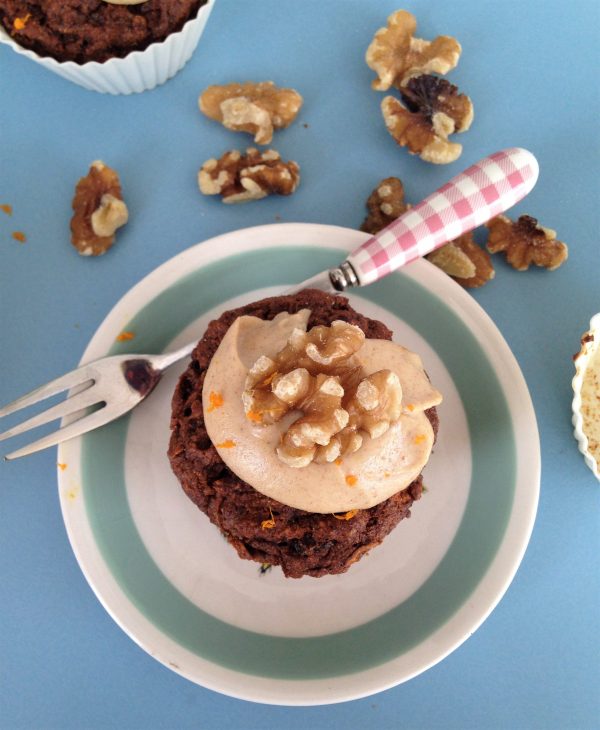 | | |
| --- | --- |
| | |
Preheat the oven to 180c. Line your cupcake tins with cases (I prefer to use silicone liners to prevent any sticking).

Soak the raisins (preferably overnight) in the orange juice. If you forget to do this, you can boil them in the juice for 5-10 minutes until they are soft and juicy.

Soak the dates for at least 10 minutes in boiling water (or boil for 5 minutes until softened).

Pour the lemon juice into the milk and set aside for a few minutes.

Blend the applesauce, soaked dates, milk mixture and maple syrup until smooth.

Add the remaining cake ingredients including the raisins and any juice to a bowl and stir in the wet mixture gently until just combined.

Spoon the mixture into your cupcake cases until 2/3 full.

Bake for 25-30 minutes until risen and lightly browned. A skewer inserted into the cakes should come out clean. If not, return to the oven for a few more minutes. Remove to a rack to cool.
Soak your dates and cashews for at least 10 minutes in boiling water, or if you forget, boil them for 5 minutes.

Combine all ingredients in a blender and blend until creamy and smooth. You may have to stop the blender and scrape down the sides a few times.
Spoon around a teaspoon full of icing into the centre of each cupcake. Add a walnut half and grate over some orange zest. Enjoy!
Wholemeal flour also works fabulously with these cupcakes.
---
---