Curried Sweet Potato Coconut Soup
Silky smooth with a spicy sweet kick, this Curried Sweet Potato Soup is a real winter warmer.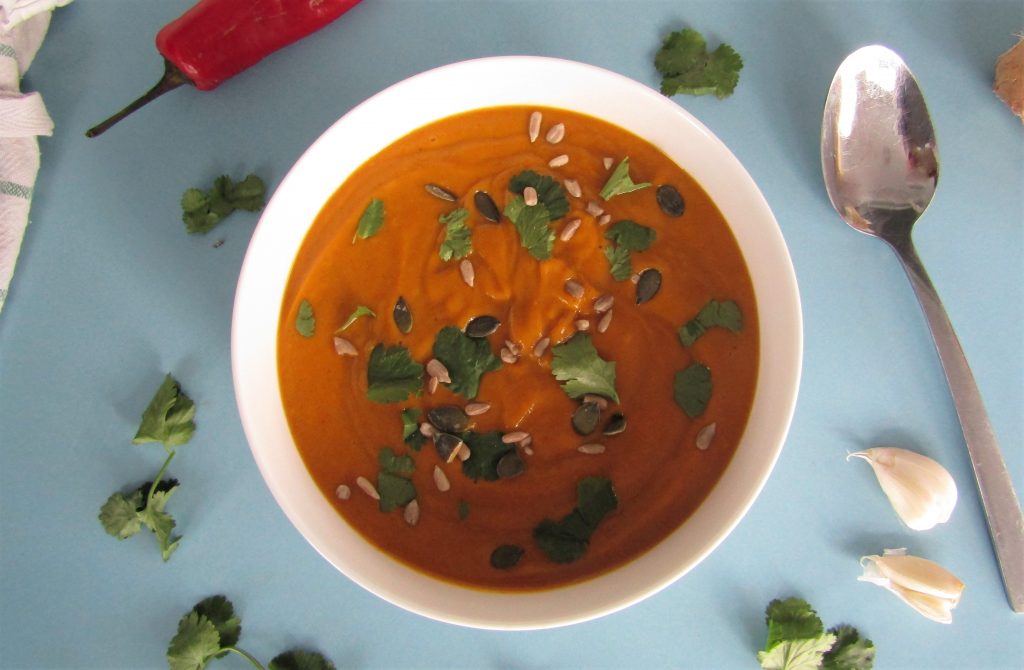 We are making a lot of this soup at the moment. It is sweet, spicy enough to give a warming kick, and has a creaminess to contrast with the spice.
We love to eat it with some steamed broccoli in the bowl and a scattering of toasted seeds and coriander leaves on top. It goes perfectly with Indian Style Flatbreads and is equally delicious with hummus on toast.
The main ingredient is Sweet potatoes, which are rich in fibre, vitamins A, C and B6, and an excellent source of carbohydrates. The orange-fleshed variety are also rich in beta-carotene which is converted into Vitamin A (good for vision and healthy skin), once consumed.
The soup also contains onions, garlic, ginger, chillies and creamy coconut milk. The spiciness comes from curry powder. Spices have been used for thousands of years in medicine. Many of them are packed with antioxidants and provide various health benefits, including the potential to improve chronic conditions such as Arthritis, Alzheimer's disease and Cancer, according to various studies.
So there you have it, a perfect excuse to make a big batch of this soup! It takes next to no effort to make – I like to make a large enough batch for a family dinner and a couple of lunches throughout the week. It also freezes well.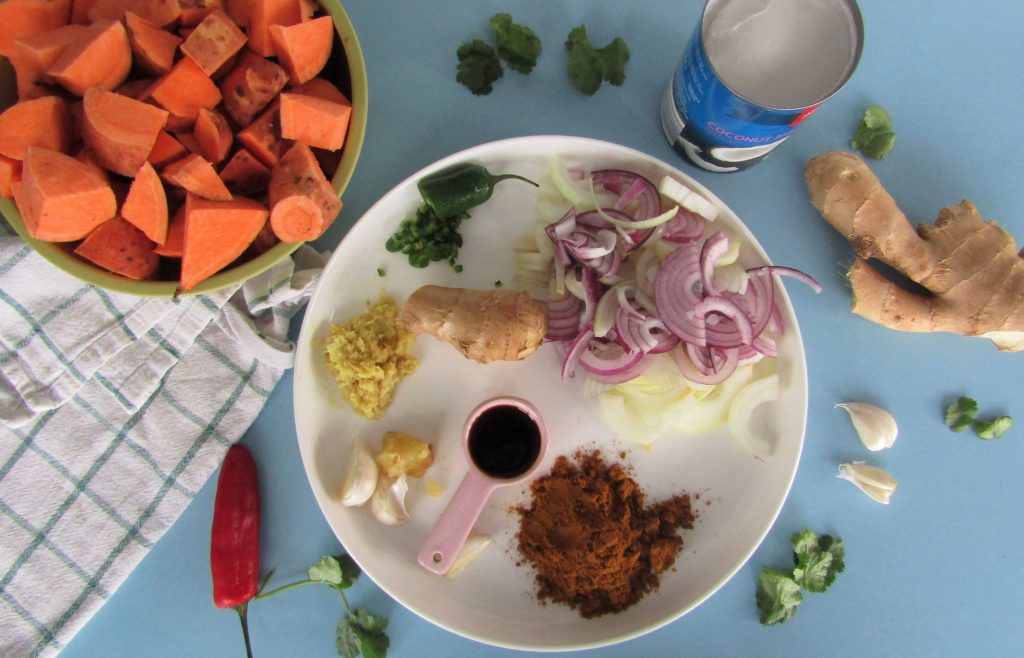 First the onions, garlic, chillies and ginger are fried until soft. The sweet potatoes and spices are added for a couple of minutes before the coconut milk and some vegetable stock are poured in. The soup is the simmered until the sweet potatoes are tender. Soy sauce is added for extra flavour and the whole lot is blended until smooth and creamy. Simple!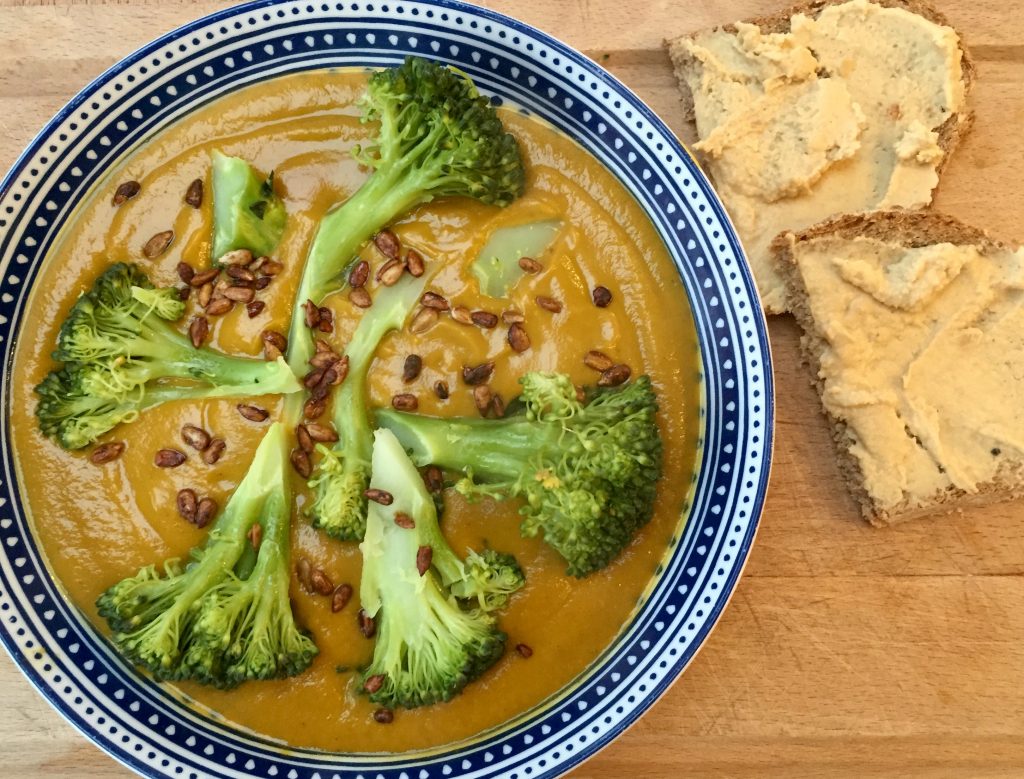 If you try my Curried Sweet Potato Coconut Soup recipe, please let us know here in the comments. You can also tag a picture in Instagram and give us a like on Facebook.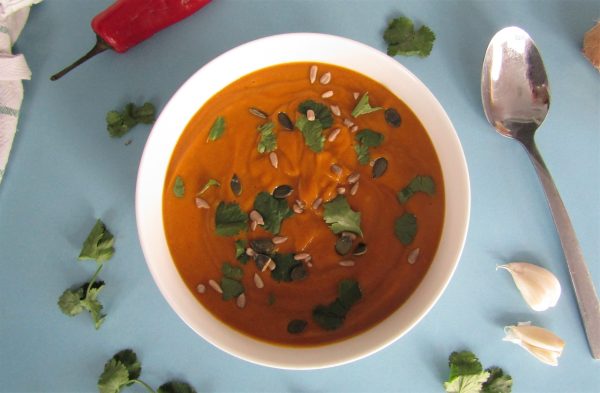 | | |
| --- | --- |
| | |
Add the chopped onions, garlic and chillies to a large pan with the grated ginger (You don't need to be too precise when chopping as the soup will be blended later). Fry for 5-10 minutes until the onions have softened. Add a little water if the vegetables start to stick.

Stir in the curry powder and cook for a minute or so before adding the sweet potatoes. Cook for another minute.

Pour in the coconut milk and the vegetable stock. Stir until well combined.

Bring the soup to the boil and then reduce to a simmer. Cook for around 15-20 minutes until the sweet potato is completely tender. Add the soy sauce.

Blend the soup until smooth and creamy. If you prefer a thinner texture, add a little water or stock until you achieve your required consistency. Taste for seasoning and add salt and pepper if desired.

Your soup is done! Top with some coriander leaves and toasted seeds. Serve with some nice bread, steamed vegetables or a salad.
*I use a madras curry powder as we like a little heat. You can use whichever curry powder you prefer.
**I use a full fat coconut milk. Use reduced fat if you like. The soup will not be quite as creamy but will still taste delicious.
---
---