Warming Red Lentil & Vegetable Stew
This stew is a fantastic warming comfort food for when the weather starts to become colder. Packed full of vegetables and lentils, it can be served as a chunky stew or blended to a smooth soup. The choice is yours.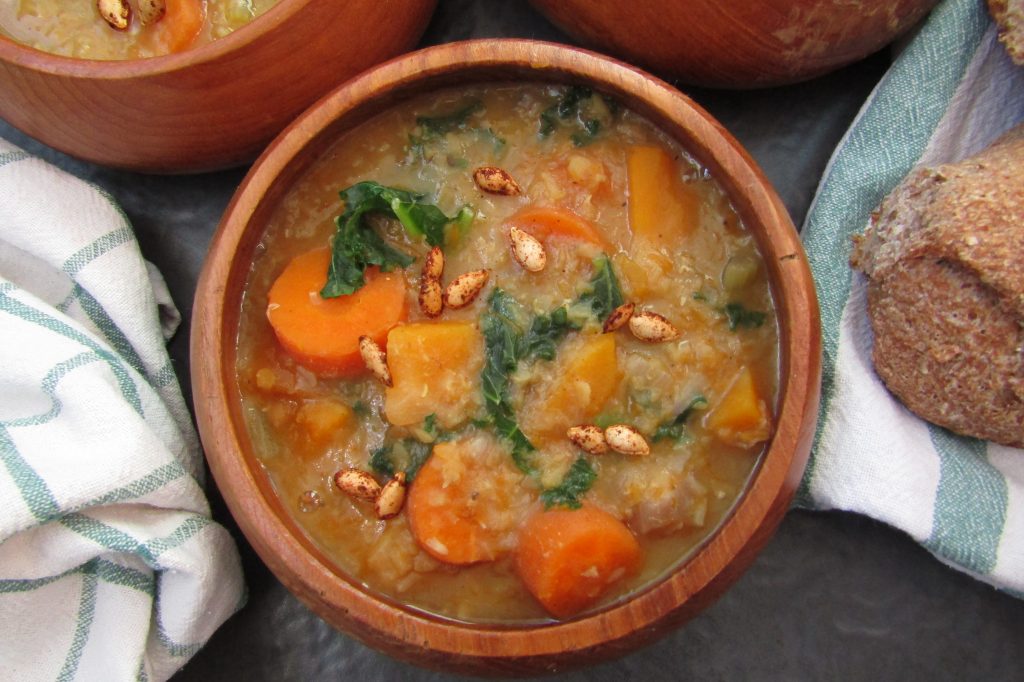 As the weather starts to change from Summer to Autumn and the temperatures start to drop, my thoughts start to drift towards hearty, warm meals to provide lots of comfort on a dark evening.
This stew is ideal. My children like to eat it blended into a soup, whereas I prefer it in it's chunky form. It is great served on it's own for a quick lunch or is amazing served with some freshly baked bread or some simple steamed potatoes for a hearty supper.
This is what I like to call a 'building block' dish. These are dishes that can easily be adapted or added to as desired. In this case, the vegetables can be varied depending upon what is in season and fresh or dried herbs can be added as desired. Beans would bring an extra protein kick, a blob of pesto would add a herby freshness, whereas some spices and chilli could turn it into more of a curry style meal.
Lentils are legumes and they are , in my opinion, an essential part of a plant based diet. They are very high in antioxidants as well as iron, folate and zinc. Lentils are said to help reduce cholesterol, have some anti-cancer properties and are also anti-inflammatory. Lentils are an excellent source of plant based protein.
As well as lentils, I have used butternut squash, carrot, onion, celery and kale. I find that using sweeter root vegetables makes this stew more appetising for children and it also helps to disguise the stronger flavours of any greens such as the kale used here.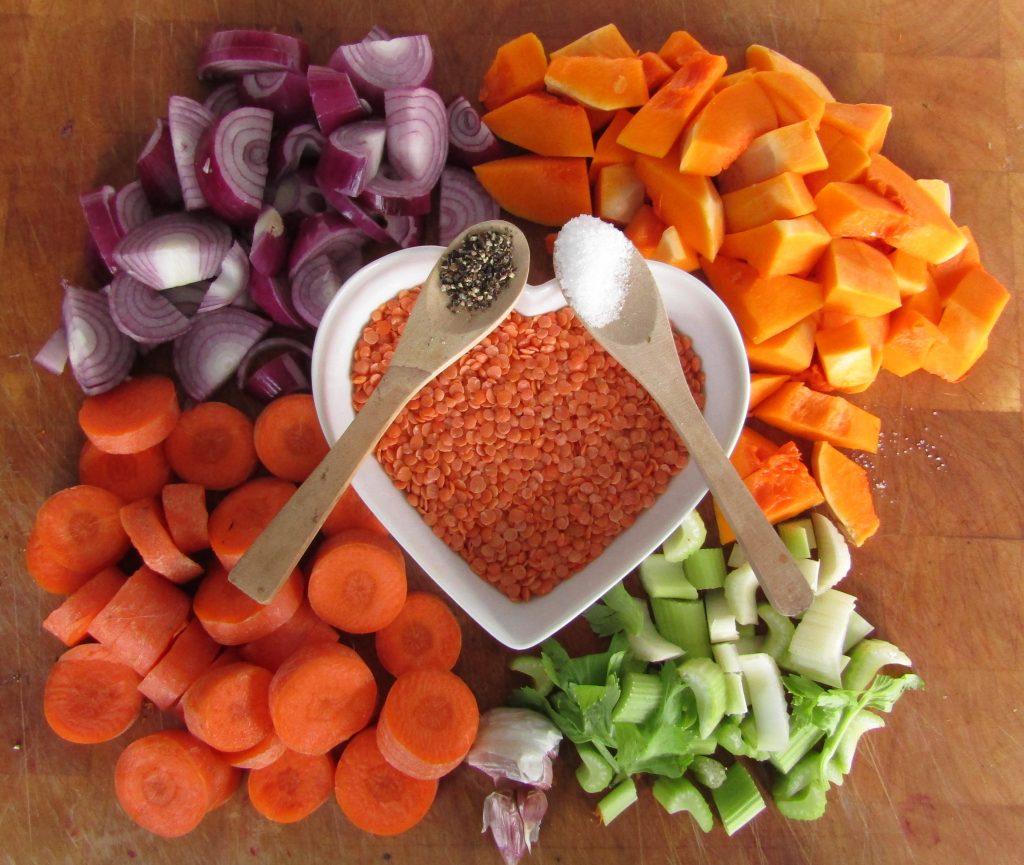 The stew is so easy to make. The root veg and onions are simply chopped and sauteed for a few minutes until slightly softened.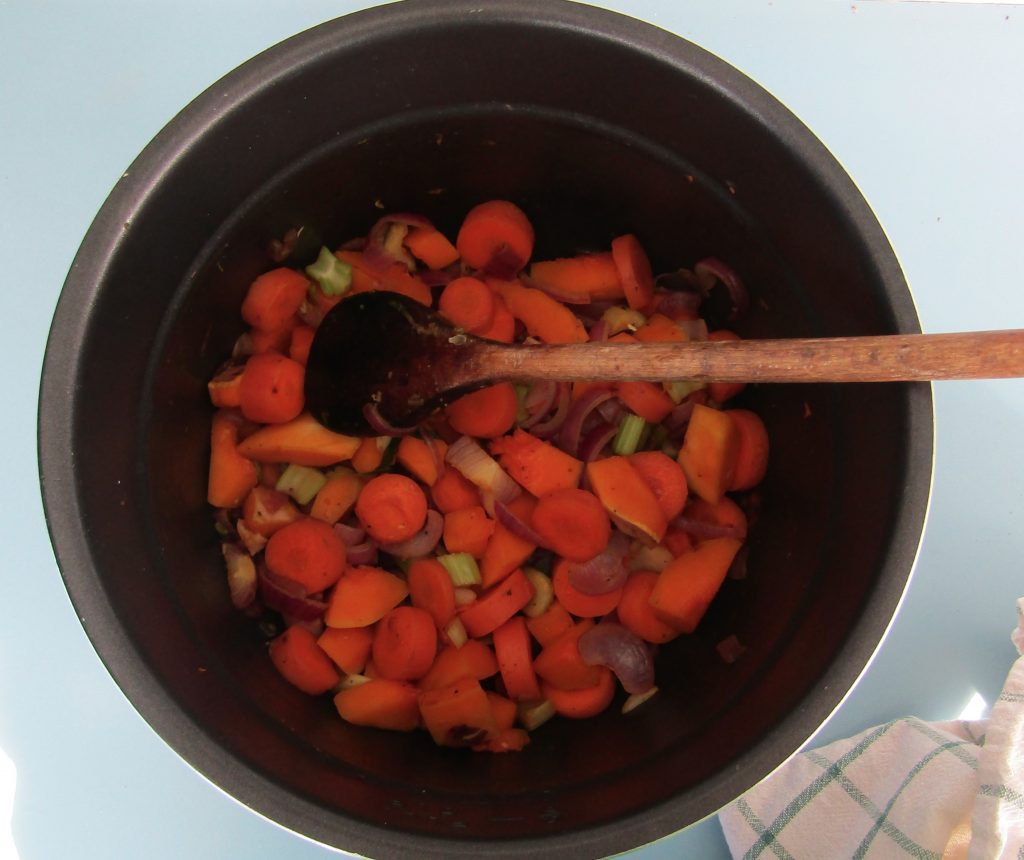 The lentils and garlic are added along with some vegetable stock and the stew is simmered gently until the vegetables are tender. The kale is stirred in to wilt gently and the stew is ready to serve or to blend into a soup. Simple!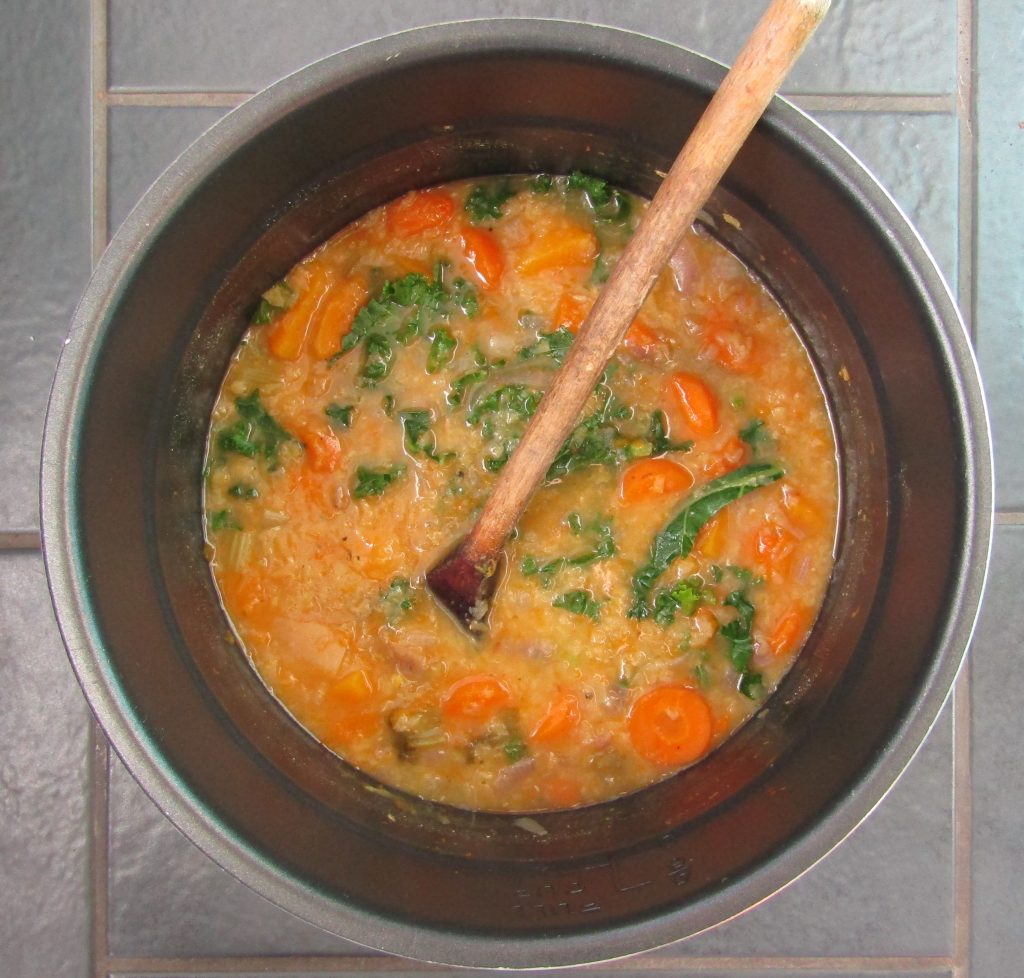 Serve with whichever accompaniment you wish. I like to sprinkle the stew with some toasted spiced pumpkin seeds and some chopped parsley and dip in some warm homemade bread.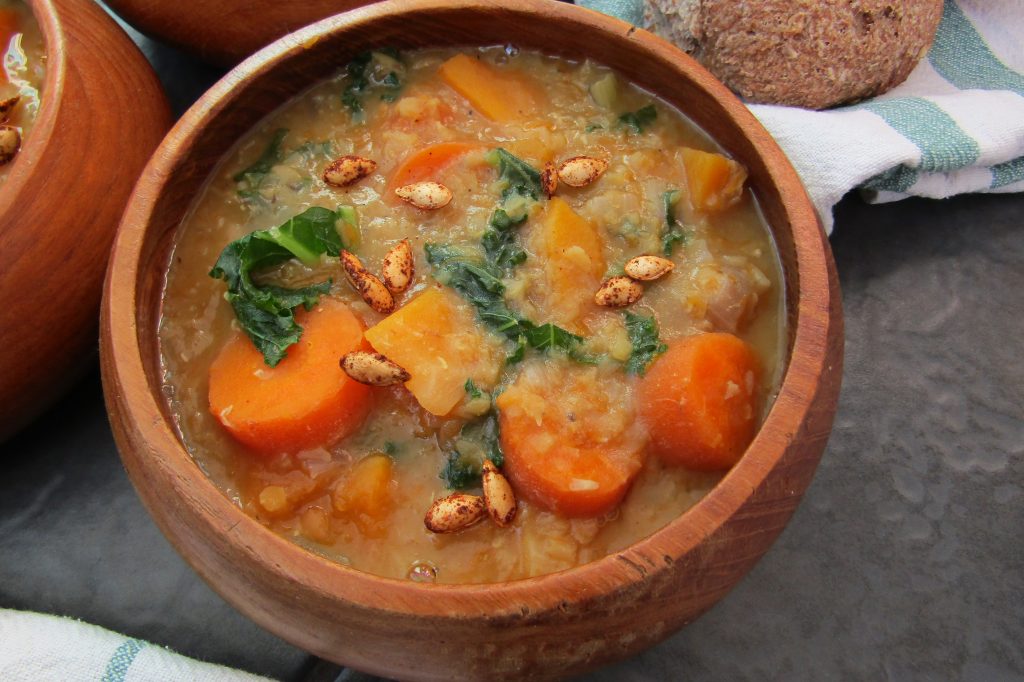 Warming Lentil & Vegetable Stew will keep in the fridge for up to 5 days. It also freezes well (especially in soup form) to make easy lunches or dinners, so I often make huge batches to stock the freezer.
If you try my Warming Lentil & Vegetable Stew, please let me know here in the comments. You can also tag a picture @plant_powered_pantry on Instagram or like us on Facebook.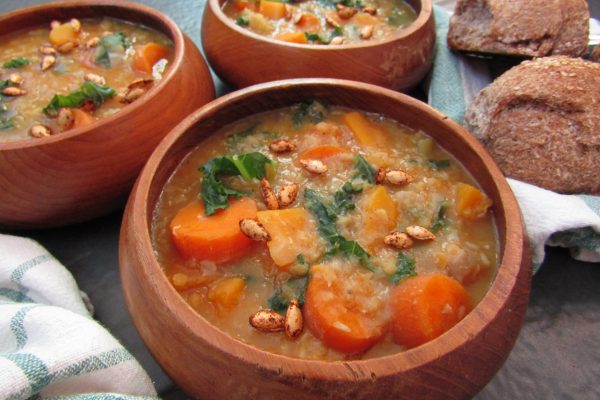 | | |
| --- | --- |
| | |
First chop the vegetables into bite-sized pieces and shred the kale.

Add all of the vegetables except the kale to a large pan and cook them gently for around 10 minutes. Add a splash of water if they start to stick.

Add the garlic and the lentils to the pan. Stir and cook for a couple of minutes more.

Pour the stock into the pan, bring to the boil then reduce the heat and simmer for around 25 minutes until the lentils are cooked through and the vegetables are tender. Season with salt and pepper.

Add the kale and leave for a few minutes to wilt.

The stew is ready to serve as it is or can be blended into a soup.
Fresh woody herbs such as bay, rosemary or thyme can be added with the vegetables if desired. More tender herbs are best added at the end of cooking (with the kale or sprinkled on when serving), to maintain their delicate flavour and structure.
Tags:
Dairy Free
,
Egg Free
,
Family Friendly
,
Gluten Free
,
Herbs
,
Legumes
,
Oil Free
,
Plant Based
,
Pulses
,
Soup
,
Stew
,
Vegan
---
---