Oil Free Basil Pesto
Delicious Oil Free, Dairy Free Basil Pesto. Not just for pasta – give it a try today!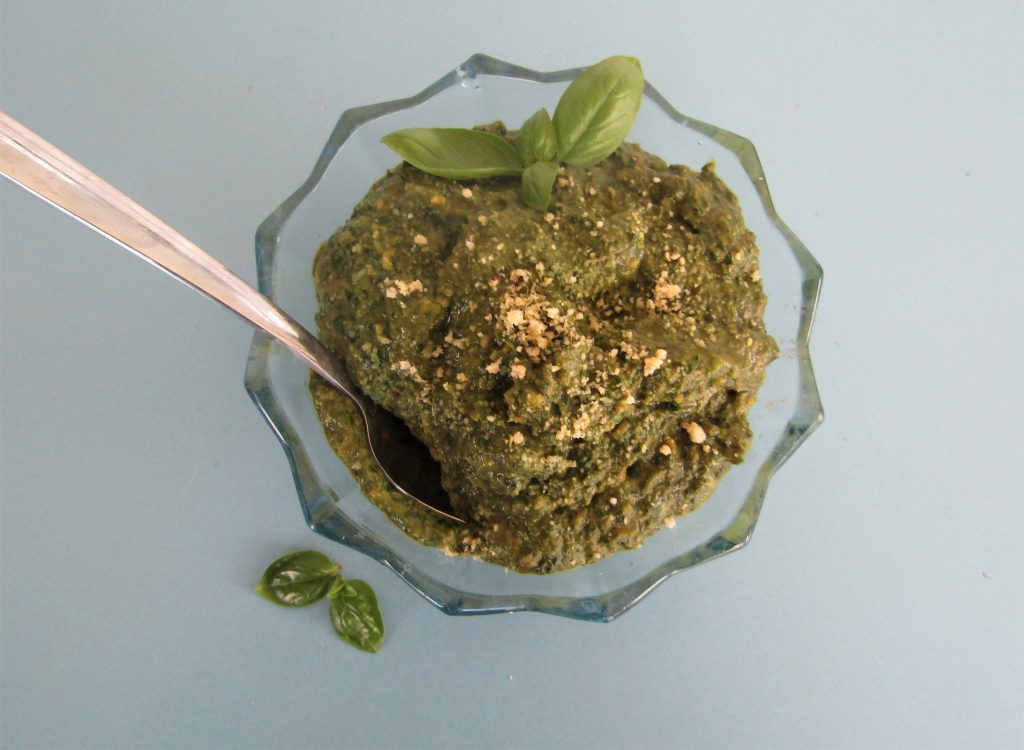 Basil is such a fragrant delicious herb which really comes into its own during the summer months.
One of the most common uses for Basil is Pesto. Pesto is an Italian sauce, often used in pasta dishes and is usually made with Basil, Olive Oil, Garlic, Pine Nuts and Parmesan Cheese.
Oil and Dairy free Pesto is not only possible, it is just as tasty and in true Plant Powered Pantry style, it is also super simple to make.
Pesto is a really useful sauce to have in the fridge. Not just for pasta, Pesto also makes a fantastic dip for vegetables, is delicious spread on a pizza base instead of tomato sauce, or used as a topping, it is wonderful thinned down and used as a dressing for salads and it is yummy spooned on top of soups and stews.
My Oil Free Basil Pesto only uses 5 ingredients (plus water and seasoning) and it takes less than 10 minutes to whip up a batch.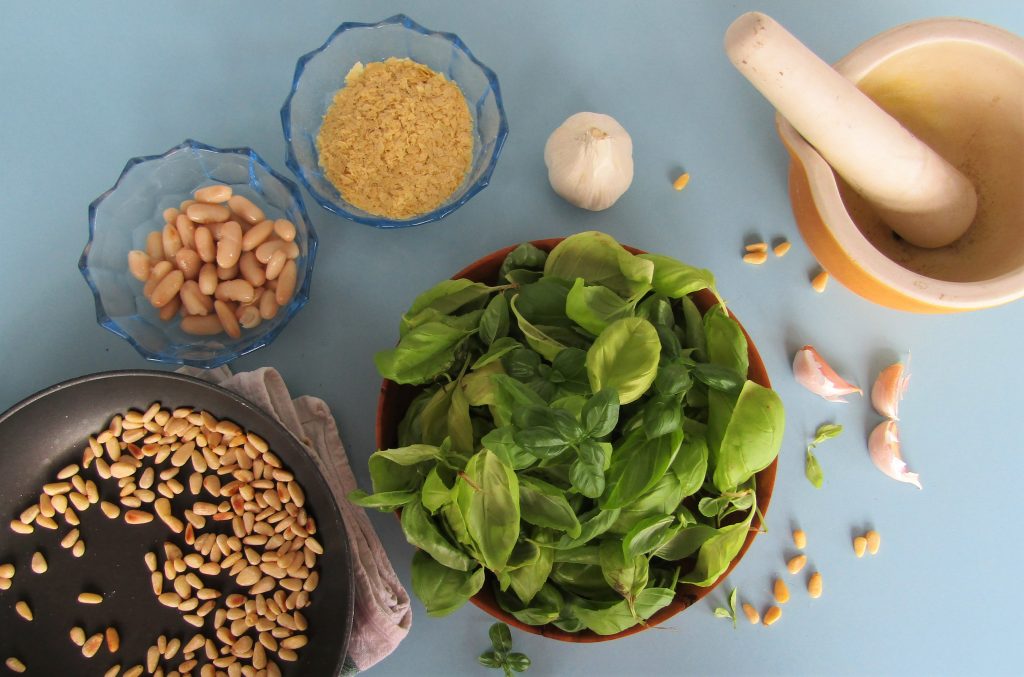 I have used Cannellini beans in this pesto to provide the creaminess that is usually obtained using oil and cheese. The beans are not detectable in the sauce but they provide us with protein and fibre along with calcium and potassium – which makes this Pesto healthier than a regular version!
The other ingredients are garlic, sweet, creamy pine nuts (or you can use cashews), and Nutritional Yeast for that savoury cheesy flavour.
The nuts are toasted first to bring out their flavour and then all of the remaining ingredients are blended together in the Food Processor until a gorgeous green paste is formed. Water is added until the desired consistency is reached. The nuts are added along with seasoning and the pesto is done. Simple!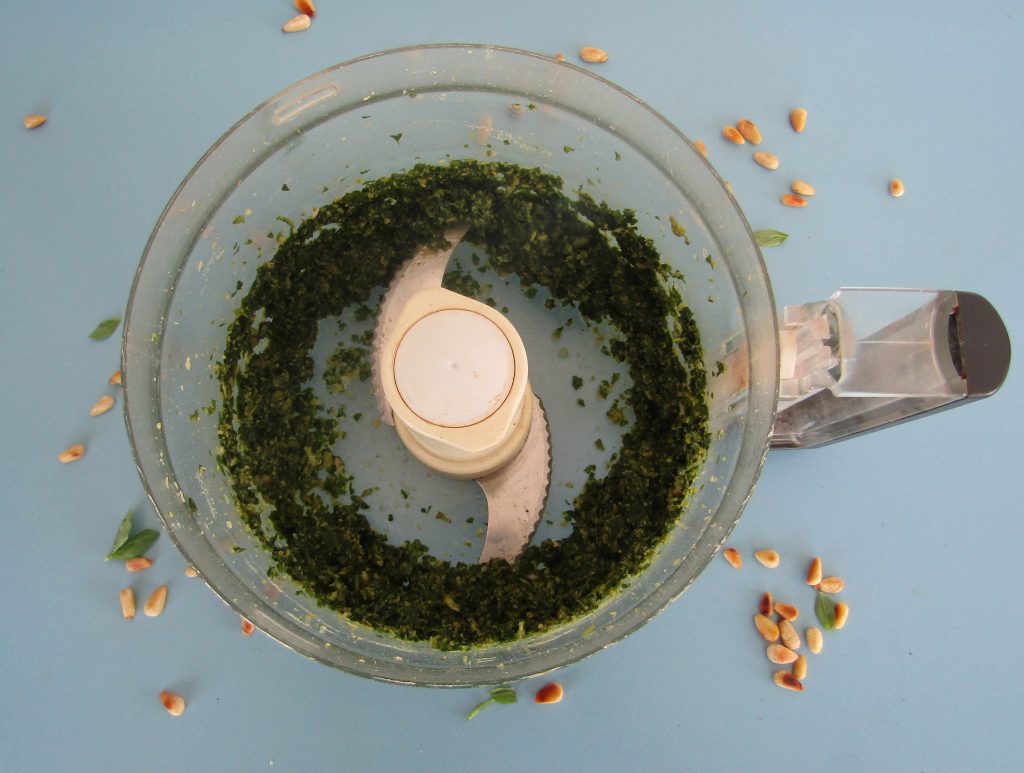 If you try my Basil Pesto, please let me know here in the comments. You can also tag a picture @plant_powered_pantry on Instagram or like us on Facebook.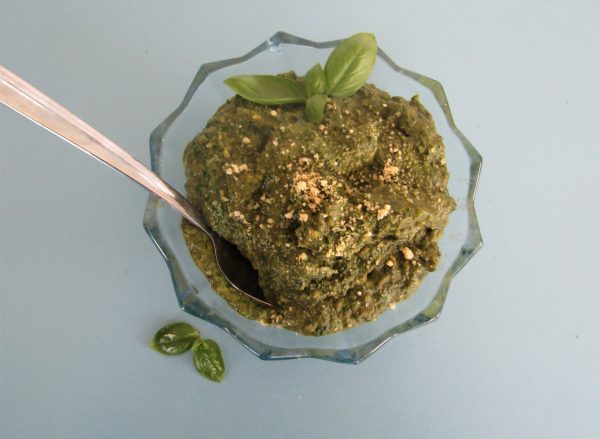 | | |
| --- | --- |
| | |
Toast the pine nuts (or cashews) in a dry frying pan for a few minutes until they are golden brown.

Put the basil leaves, beans, garlic and nutritional yeast into the food processor and blitz until finely chopped.

Add water gradually whilst running the food processor until the desired consistency is reached.*

Add the toasted nuts and pulse until combined.**

Season with salt and pepper. Pulse once more. Your Pesto is ready!
*The amount of water you will need will depend on how thick you want your finished pesto to be. Less water will be required for a spread and more for a dressing.
**I like to keep some texture in my pesto so I only chop them with a couple of pulses of the food processor. You can of course combine yours fully.
Keep the pesto in an airtight jar in the fridge and it should last for 5-7 days.
---
---