Pea and Mint Hummus
Fresh, Green and Delicious. This is a fabulous hummus to enjoy on a warm summers day.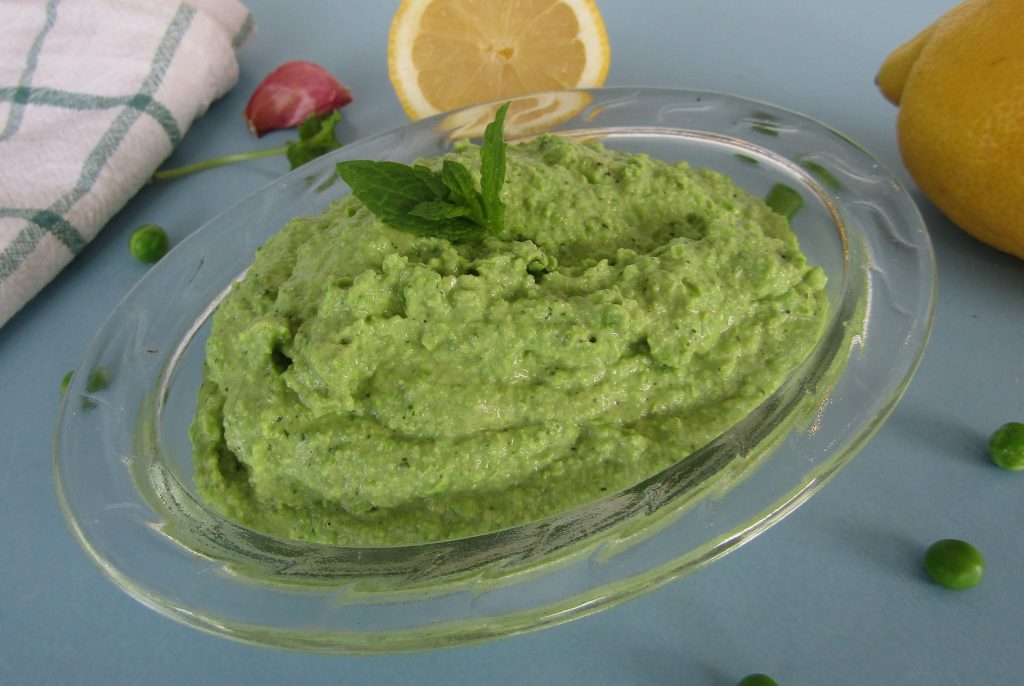 Hummus is an absolute staple in our kitchen. A fabulous addition to salads, sandwiches, jacket potatoes, dressings, toast, bowls, as a dip for vegetables or chips, you cant go hungry with a bowl of yummy hummus in the fridge!
Traditionally made from a base of chickpeas with tahini, lemon juice and olive oil, hummus is very easy to make. I always leave out the oil, replacing it with water or aquafaba (the liquid from cooking chickpeas), and made this way hummus is equally if not more delicious than if made with oil.
Sometimes it is nice to make a change from traditional chickpea based hummus, and my Pea and Mint Hummus is one of my favourites.
Garden Peas are a fantastically healthy legume. Most commonly frozen soon after picking, these sweet delights are high in protein, full of fibre and a fantastic source of Vitamin K. They are also a great source of antioxidant and anti-inflammatory phytonutrients.
I grow mint in my garden and I am always looking for ways to use it – this is a great way!
This Pea and Mint Hummus contains only 5 ingredients. It also takes only 5 minutes to make. Simple!
The peas are added to the food processor. I use defrosted frozen peas here, but feel free to use fresh podded peas if you like.
Mint, lemon juice and zest, tahini and garlic are added.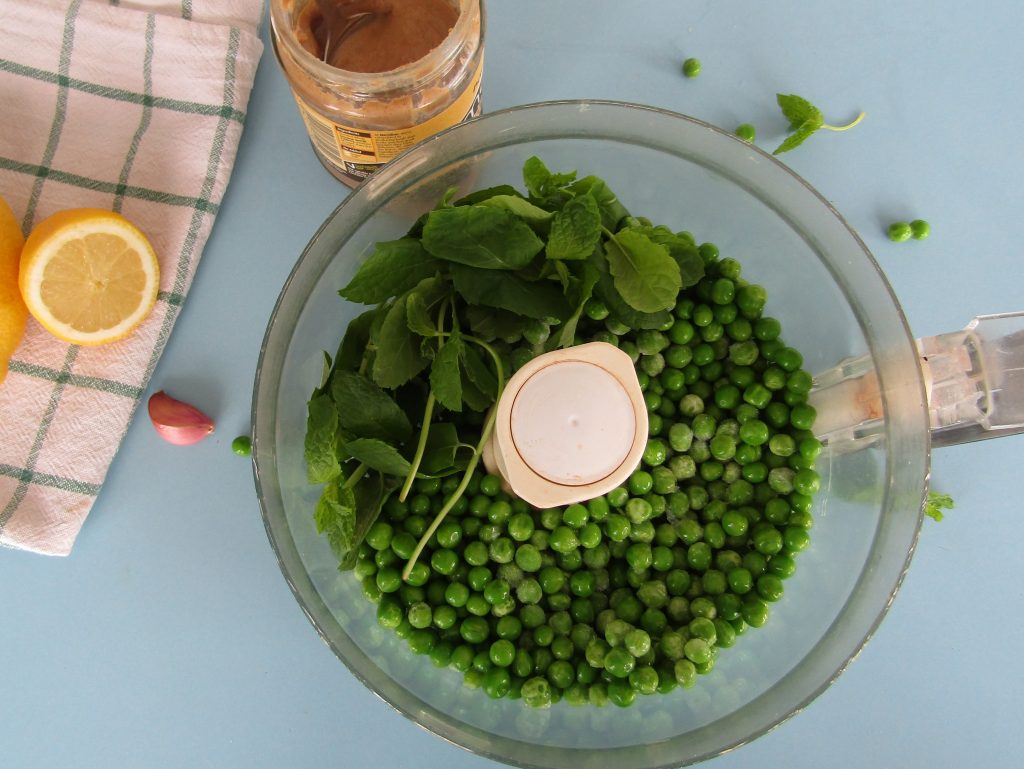 The whole lot is whizzed until it is smooth and delicious.
I like to enjoy this hummus:
As a dip for vegetable sticks
As a salad topping
Stuffed in a pitta with watercress and radish slices
Spread on top of my Indian Style Flat-Breads
In a mound on top of steamed new potatoes.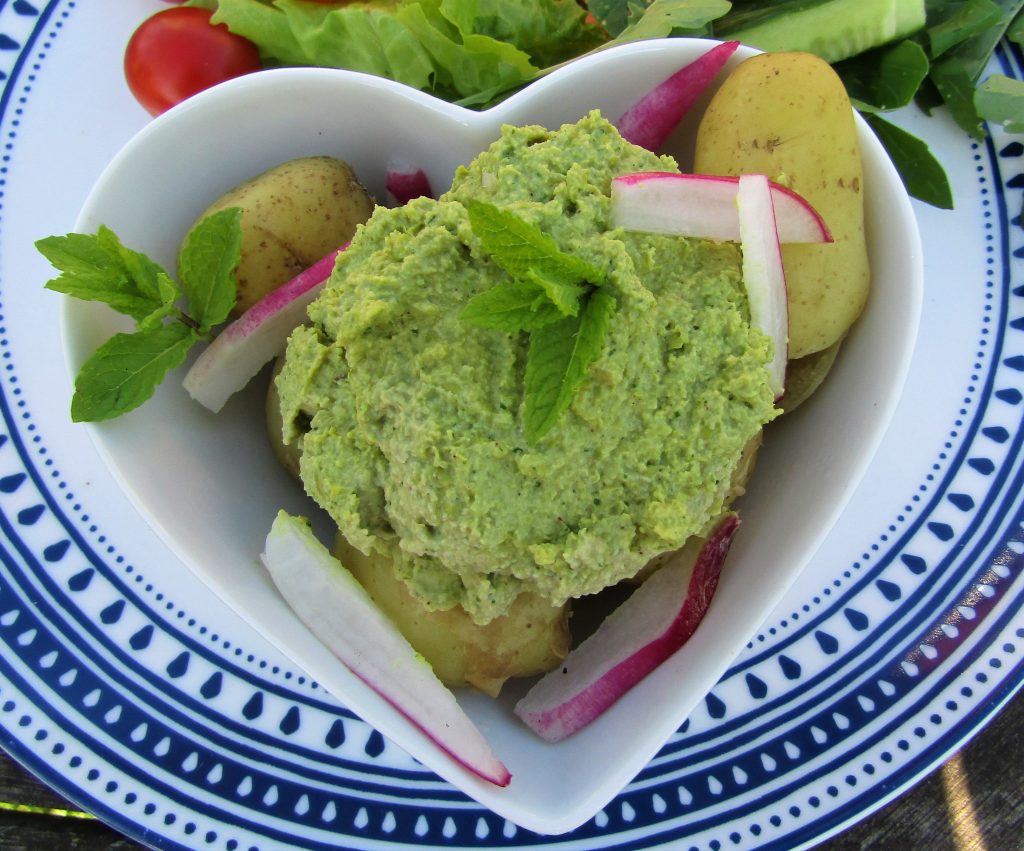 If you try my Pea and Mint Hummus, please let me know here in the comments. You can also tag a picture @plant_powered_pantry on Instagram or like us on Facebook.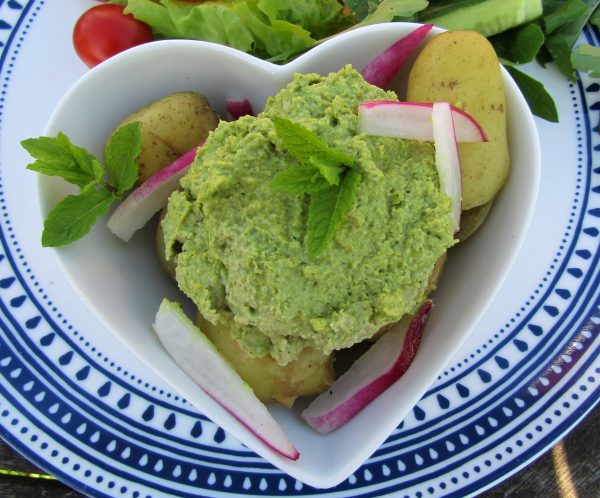 | | |
| --- | --- |
| | |
Zest and juice the lemon. Add these to the bowl of your food processor with all of the other ingredients.

Pulse until the ingredients are combined then blend constantly until the hummus is smooth and creamy. This can take around 5 minutes.

Season to perfection. Store in an airtight container in the fridge.
If your hummus seems a little dry once blended, feel free to add more lemon juice or water a little at a time.
The hummus lasts up to a week if kept refridgerated.
---
---