Plant Based Cheesy Sauce
This tasty Cheesy Sauce makes an excellent addition to many meals.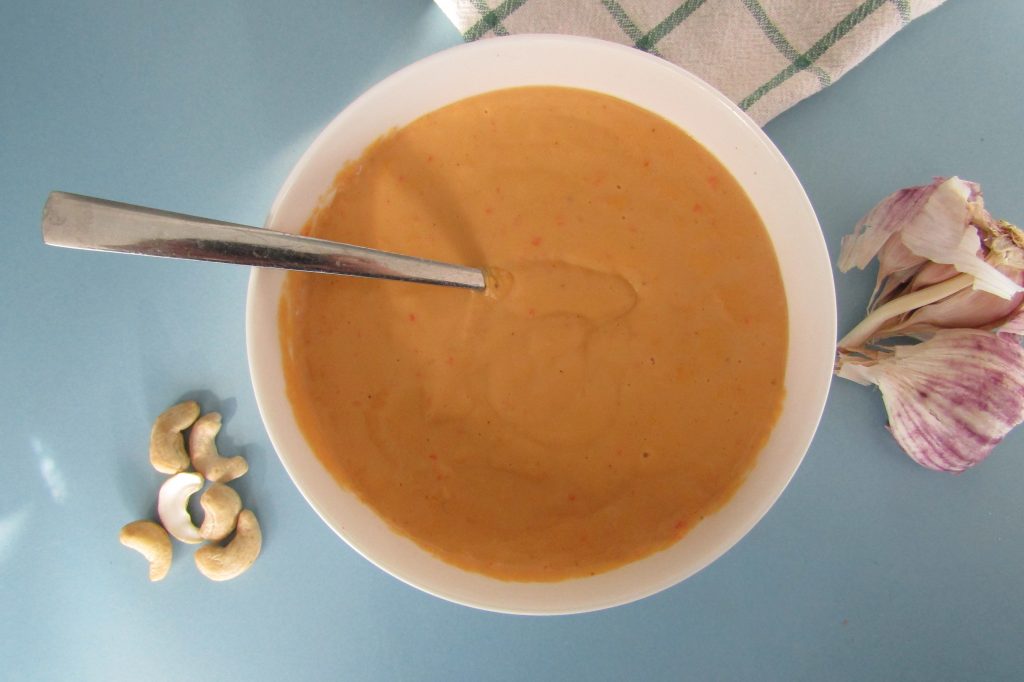 One of the foods that most people say they couldn't survive without if embarking on a plant based diet is cheese.
Plant based, oil free cheeses are never going to taste exactly like the 'real' thing. However, this makes a very tasty replacement, giving that savoury, umami punch that dairy cheese provides.
Another of my 'Building Block' recipes, this sauce can be used in a multitude of ways, such as:
with pasta for Mac & Cheese
on toasted sandwiches or quesedillas with Pesto and roasted veg
on pizzas
in a tasty vegetable lasagne
with my Smoky Lentil Ragu and Tortilla Chips as Nachos
as a topping for vegetable bakes.
There are many plant based cheese sauces out there. Some use lots of nuts, some use mainly vegetables and potatoes, some use nutritional yeast and some don't. After sampling lots of these sauces, I came to the conclusion that I like the creaminess provided by nut based sauces, I prefer the nutritional benefits and lower fat provided by using veg and I enjoy the 'cheesy' flavour of nutritional yeast.
My sauce uses a base of cashew nuts with white beans to provide creaminess with added nutritional value, red pepper for a vitamin boost, nutritional yeast and miso paste for the 'cheesiness' and mustard, garlic, lemon juice and a dash of maple syrup for extra flavour balance.
The sauce is thickened with tapioca flour (otherwise known as tapioca starch), which provides a lovely gooey texture. I vary the amount of tapioca depending on how thick I want my cheese. For a sauce consistency (for coating pasta or vegetables), I use 1 tbsp of tapioca flour. For a thick cheese texture, more like mozzarella, for pizzas and toasties, I use 2tbsp.
This sauce is of course super simple to make because that's what I'm all about!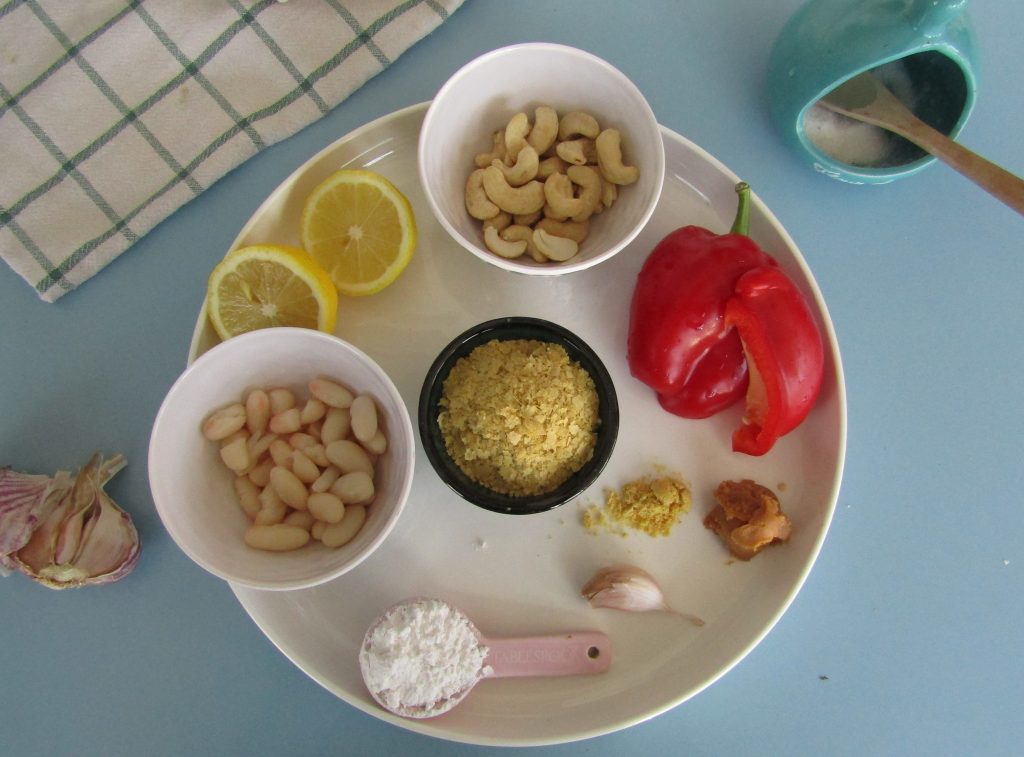 All of the ingredients are blended with water until smooth.
The mixture is slowly heated on the hob, whilst stirring.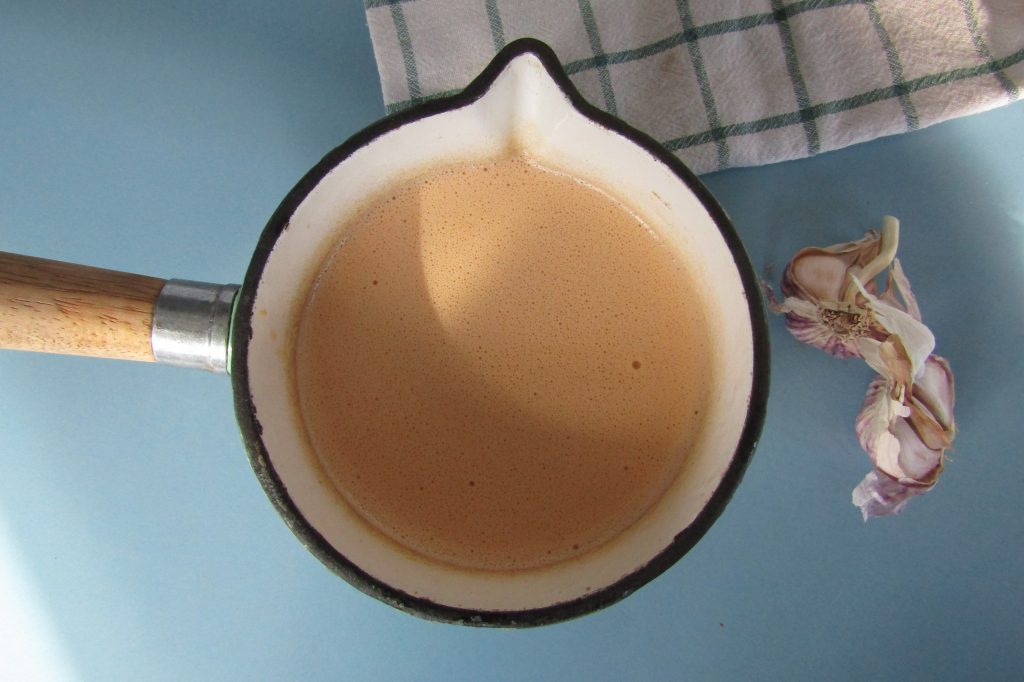 Once thickened, the sauce is ready. Simple!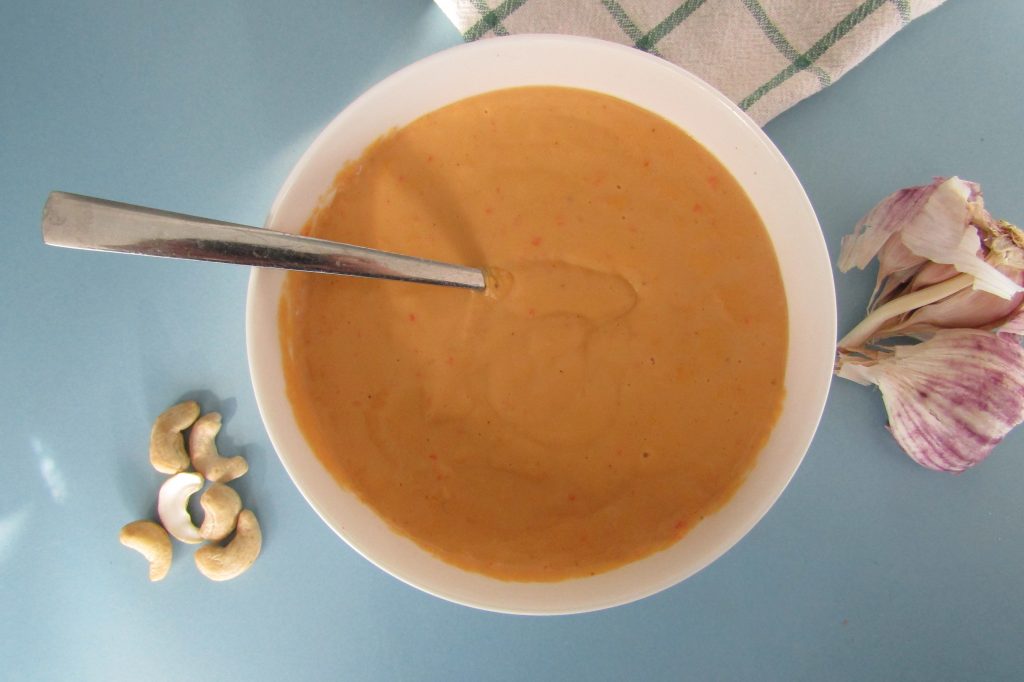 Plant Based Cheesy Sauce can be stored in an airtight container in the fridge for around 5 days. I do not recommend freezing this sauce, but as it is so easy to make, you can whip up a batch whenever you fancy.
If you try my Cheesy Sauce, please let me know here in the comments. You can also tag a picture @plant_powered_pantry on Instagram or like us on Facebook.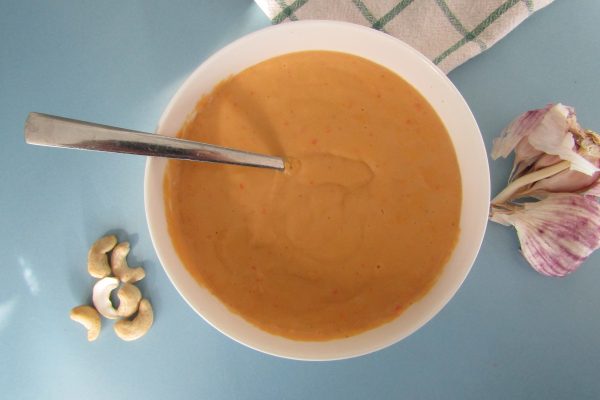 | | |
| --- | --- |
| | |
Soak the cashews for a minimum of 1 hour in water or boil them for 5 minutes. Drain.

Add all ingredients to a blender. Blend until smooth.

Pour the mixture into a small saucepan and heat gently, stirring constantly.

The sauce will become very lumpy as it thickens. This is the nature of tapioca flour. Keep stirring and the sauce will come together smooth, thick and glossy.

Once thickened, the sauce is ready to serve.
* 1 tbsp tapioca flour makes a sauce consistency, great for coating and pouring. 2 tbsp makes a much thicker cheese, more like mozzarella -  excellent for pizzas and sandwiches.
I generally use just 1 tbsp and use it for pizzas etc anyway. It thickens up considerably once cooled.
---
---