Cheesy Lentil Nachos with Guacamole
Perfect for a weekend family film night, Cheesy Lentil Nachos with Guacamole is easy to assemble and yummy to eat!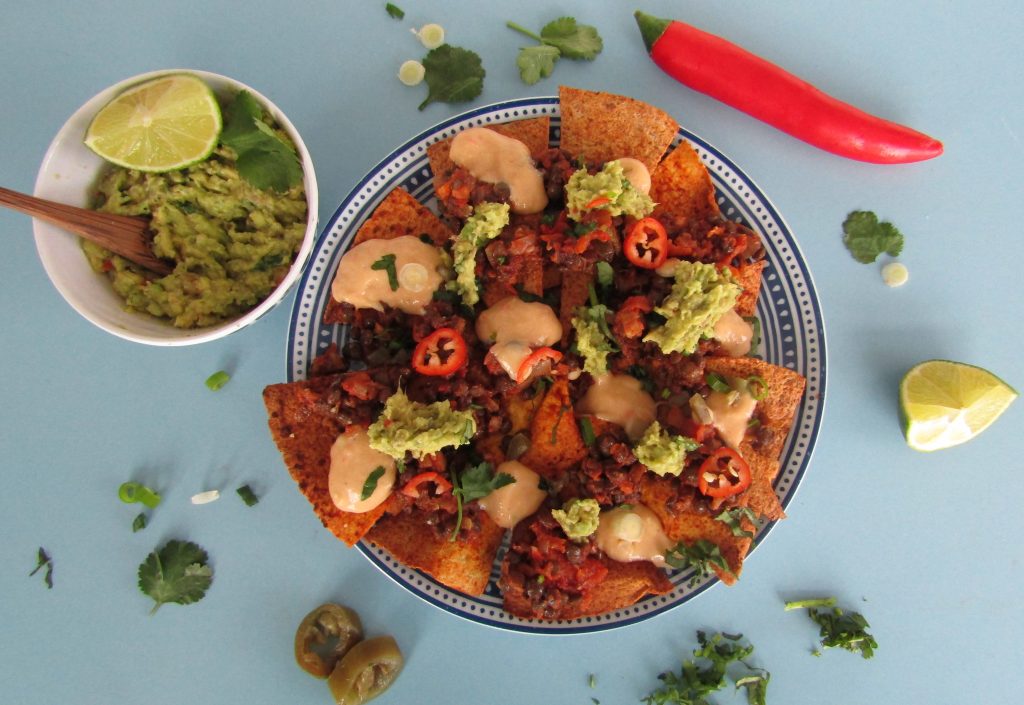 Nachos are a really fun food to eat and they are great to share with friends and family. Unfortunately they are usually pretty unhealthy though. Full of fat, salt and sugar, they can leave you feeling pretty awful and unsatisfied after eating them. That's where my Cheesy Lentil Nachos with Guacamole come in. They contain no added oil, refined sugar, meat or dairy. They are also completely delicious!
Avocados are a brilliant source of healthy fat. Fats are essential in our diet as they help with the absorption of nutrients. The healthy fats in avocados are said to help to lower bad (LDL) cholesterol and improve artery function. Avocados are also said to lower inflammation in the body.
This meal makes use of some of my previously posted 'Building Block' recipes. I like to make it when I have some Lentil Ragu leftover from a previous meal – it freezes well so I often make lots and freeze some for another day. I pretty much always have a jar of Cheesy Sauce in the fridge and the Tortilla Chips and Guacamole are very easy to make.
The flavour and texture combinations of the creamy cheesy sauce, with the smoky lentils, fiery jalapenos, creamy guacamole and crunchy tortilla chips really are a match made in heaven. You have to try it – your friends and family will thank you!!
This dish is really just an assembly job rather than cooking – all the cooking is done beforehand.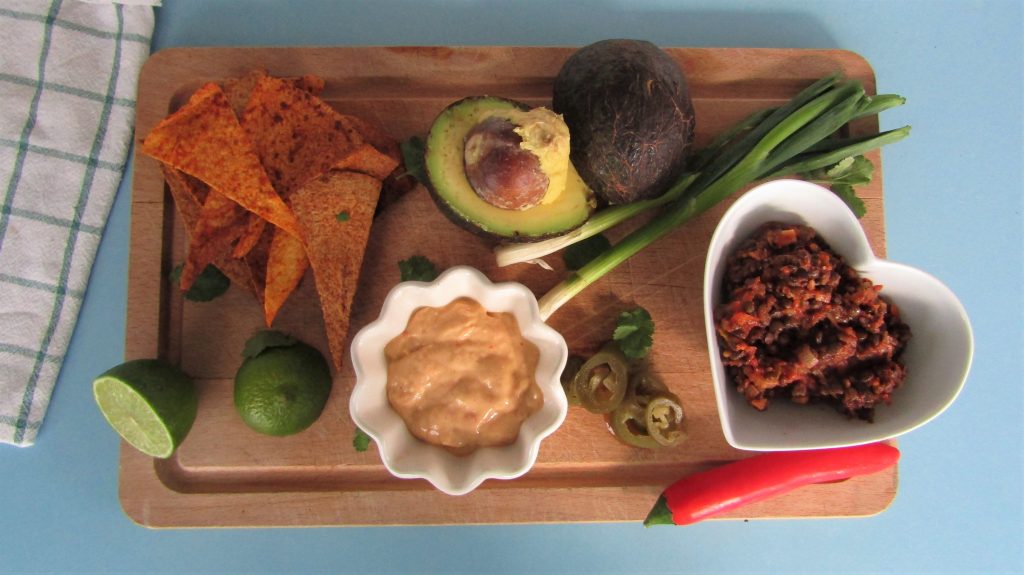 The avocados are mashed and combined with lime, chili, coriander and garlic to make the Guacamole.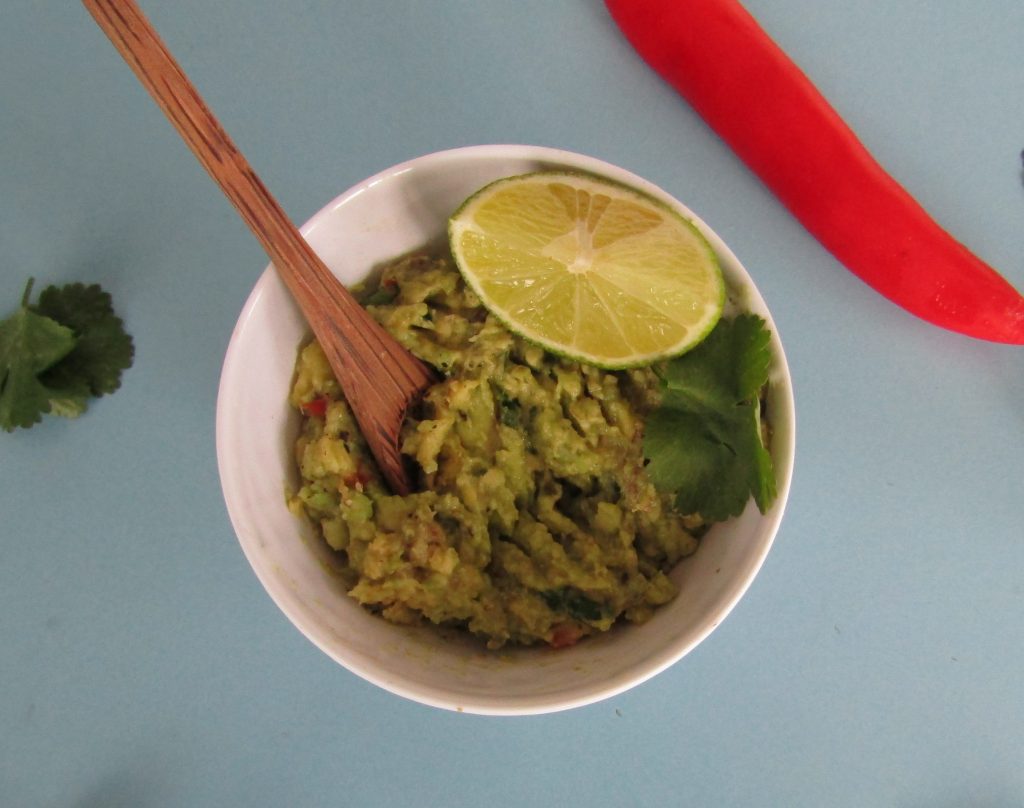 The tortilla chips are laid on a plate and the warmed lentils and cheesy sauce are drizzled over. Then the guacamole is spooned on and some chopped jalapenos, spring onions and coriander are sprinkled on top. Simple!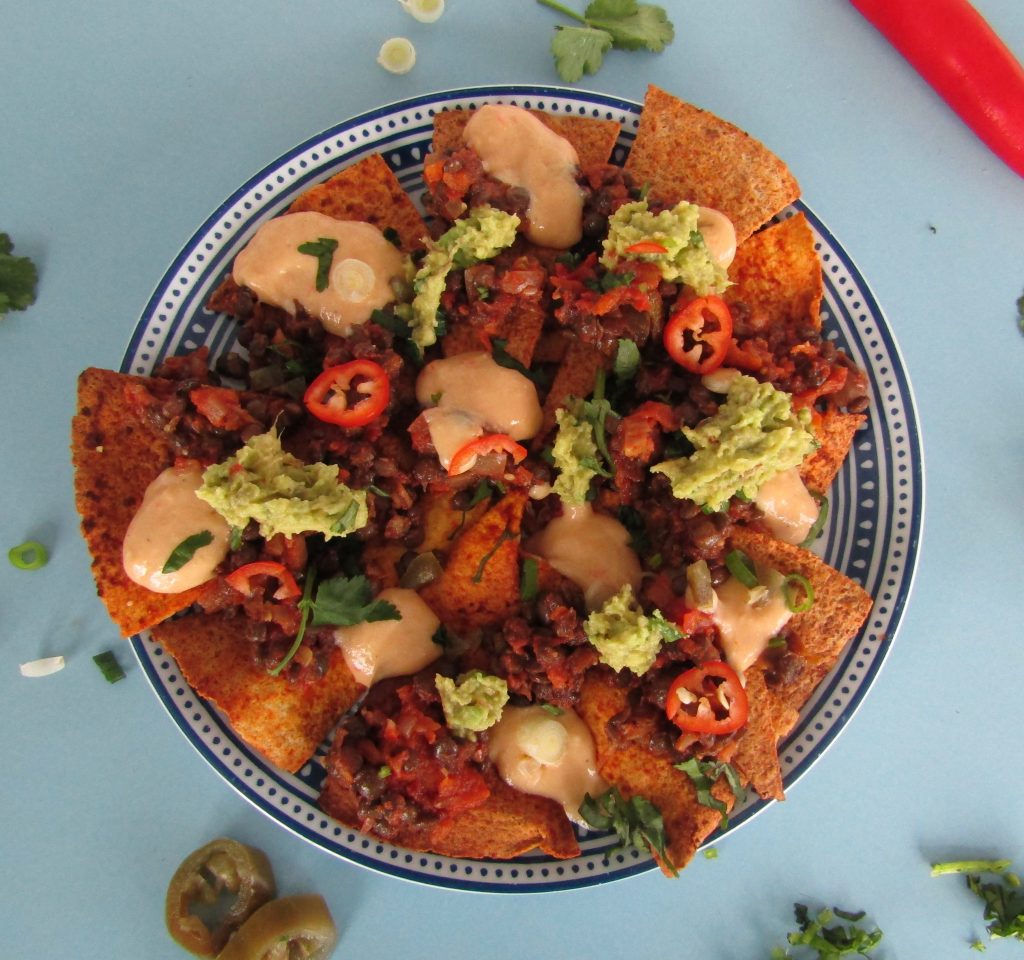 If you try my  Cheesy Lentil Nachos with Guacamole recipe, please let us know here in the comments. You can also tag a picture in Instagram and give us a like on Facebook.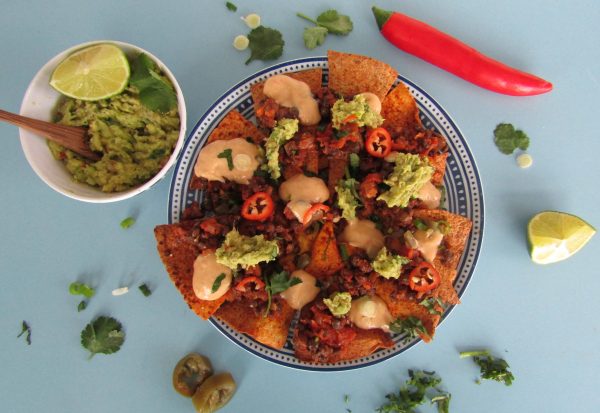 | | |
| --- | --- |
| | |
Peel the avocado and remove the stone. Mash the flesh with the rest of the ingredients until well combined. Taste and add salt and pepper and more chilli or lime as desired.
Warm the Smoky Lentil Ragu and the Cheesy Sauce gently on the hob.

Arrange the Tortilla Chips on a plate. Spoon over the letil ragu and drizzle the Cheesy Sauce on top.

Scatter with the sliced spring onions, jalapenos and coriander. Add some blobs of the guacamole.
---
---