Roasted Beetroot and Rosemary Hummus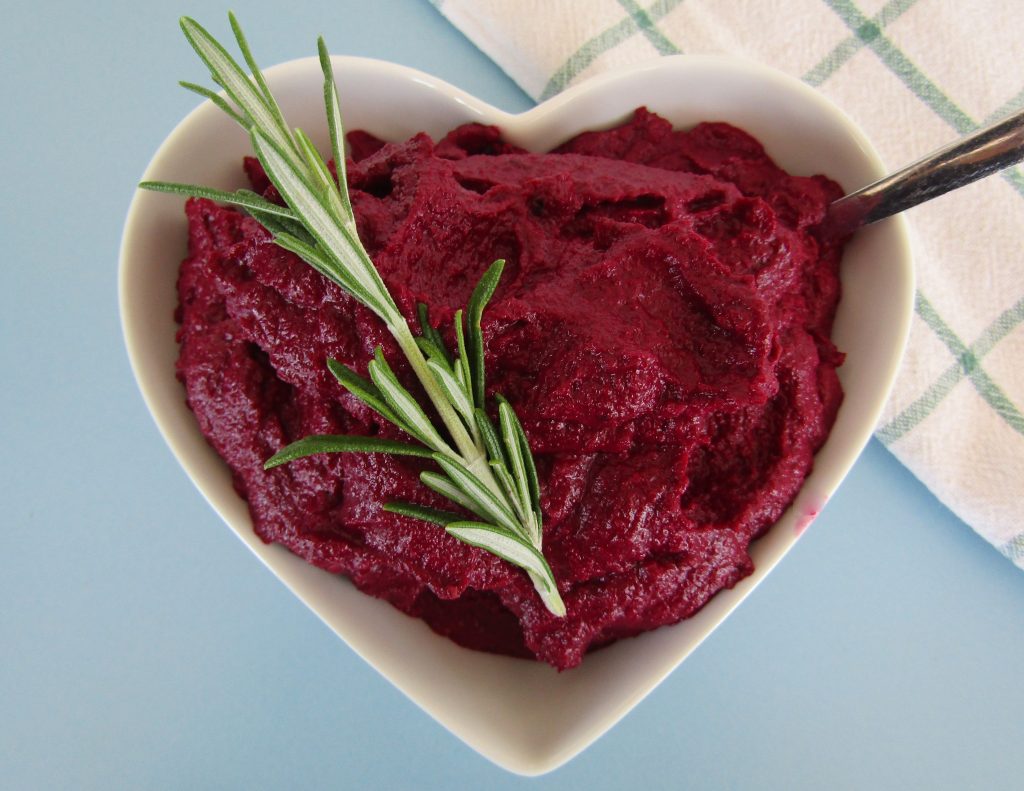 Sweet roasted Beetroot is complimented perfectly with warming Rosemary to make this vibrant, tasty hummus.
Perfect for:
Topping salads.
Blobbing on Risottos.
Stirring into Pasta.
As a dip for Vegetable Sticks or Crisps.
Spreading on bread and topping with roasted vegetables.
As usual it is simple to make. The most complicated part is roasting the beetroot! If you don't want to do that, you can use ready cooked beetroot – I have done many times. But be warned, the flavour is nowhere near as rich, sweet and delicious than if you use roasted beetroot, so I implore you to take the time to do so (whatever you do, don't use pickled beetroot!).
Beetroot is a root vegetable, first cultivated by the Romans. It is well known for it's distinctive sweet, earthy flavour and bright purple colour – although it comes in other colours too such as white, orange and striped. It is delicious both cooked or raw, but I think roasting it really brings out its flavour.
Both the greens and the root of beetroot can be used. The roots are an excellent source of folic acid and provide fibre, manganese and potassium.  Beetroot greens are rich in calcium, iron and vitamins A and C and can be used in much the same way as spinach or chard. Beetroot has been proven to be a powerful source of antioxidants and also increases the number of white blood cells in the body which help to fight disease and infection.
Rosemary also has a wealth of health benefits. It  boasts an impressive list of vitamins, such as A, C  and B6, as well as containing minerals such as magnesium, iron, and calcium. Like beetroot, it is a source of antioxidants and it is said to boost memory and aid hair growth – all excellent reasons to include Rosemary in our diet.
To make Roasted Beetroot and Rosemary Hummus, first the Beetroot is roasted. Each root is wrapped in foil and roasted in the oven until tender.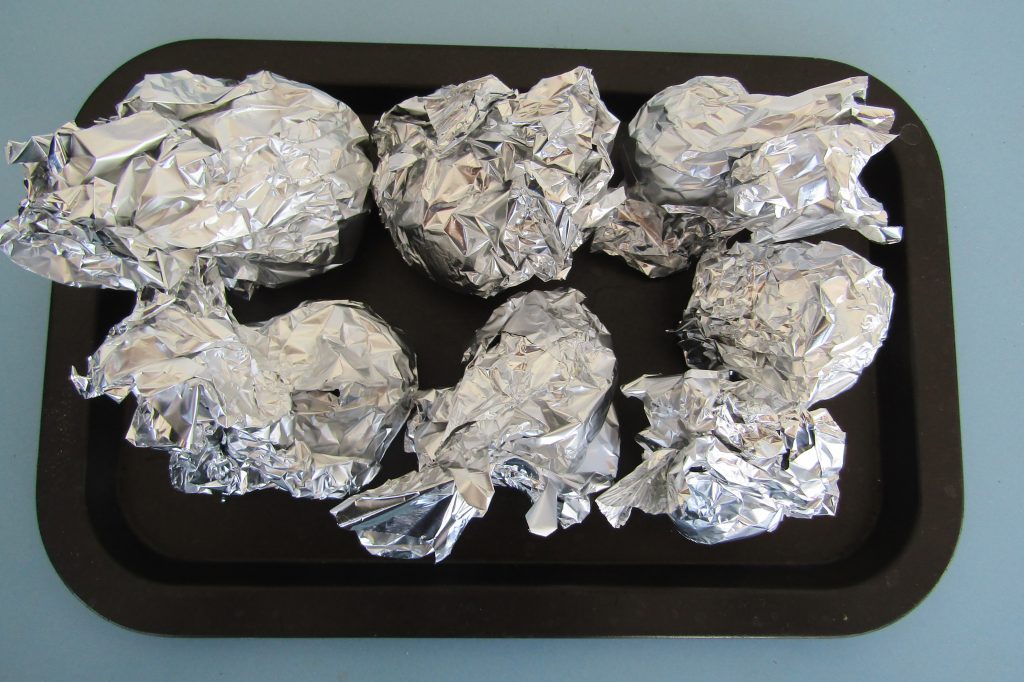 Once they are cool, the Beetroot are peeled by simply slipping the skins off them.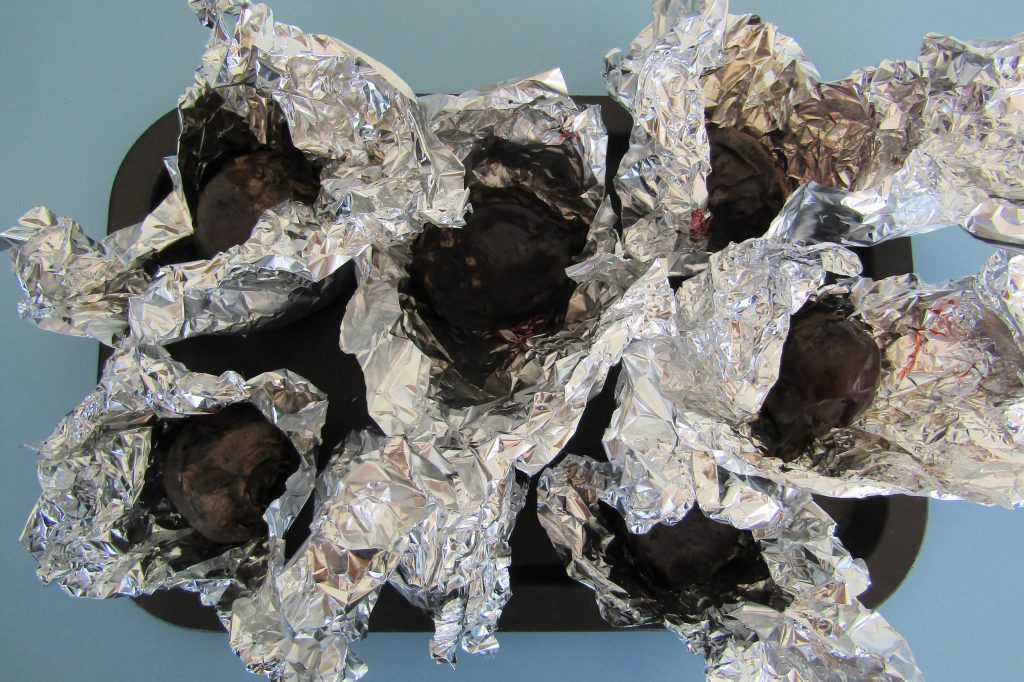 Next, the beetroot are added to the food processor with all of the rest of the ingredients – Garlic, Tahini, Peanut Butter, Lemon, Rosemary, Cumin, Almonds and Walnuts – and blitzed until the hummus is smooth, thick and delicious.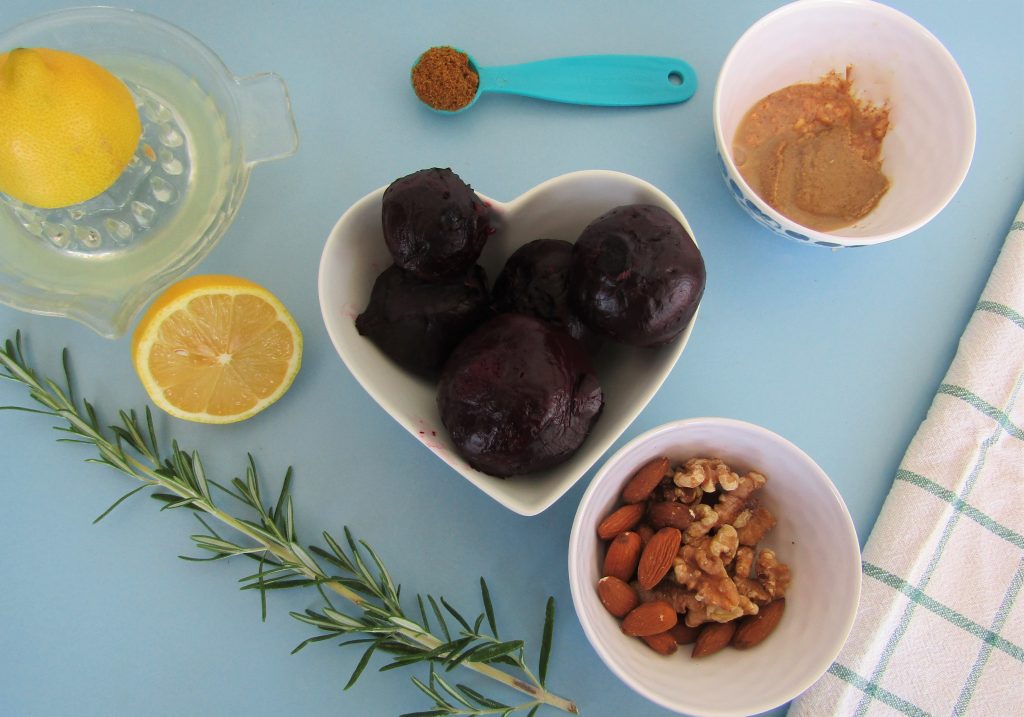 Roasted Beetroot and Rosemary hummus is wonderful with many of my other recipes, such as Pea and Mint Hummus, Summery Carrot, Orange and Mint Salad, Tabbouleh and Indian Style Flat-Breads.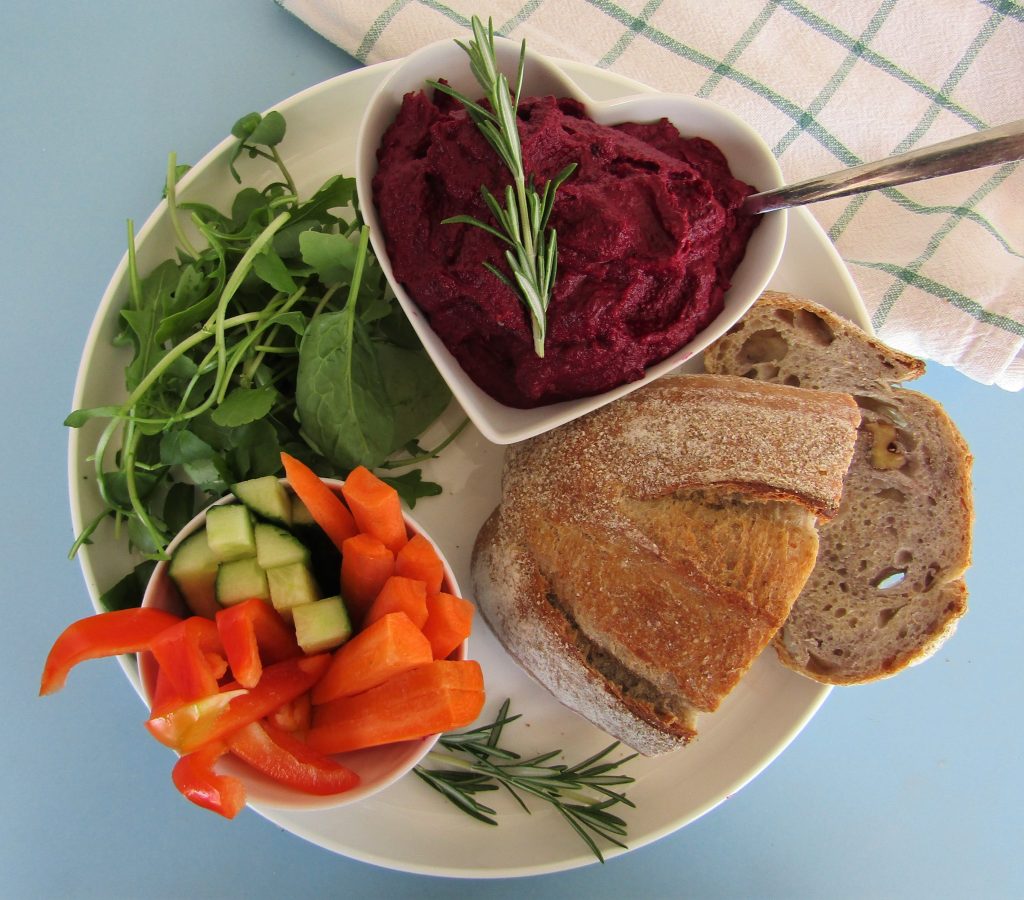 If you try my Roasted Beetroot and Rosemary Hummus, please let me know here in the comments. You can also tag a picture in Instagram and give me a like on Facebook.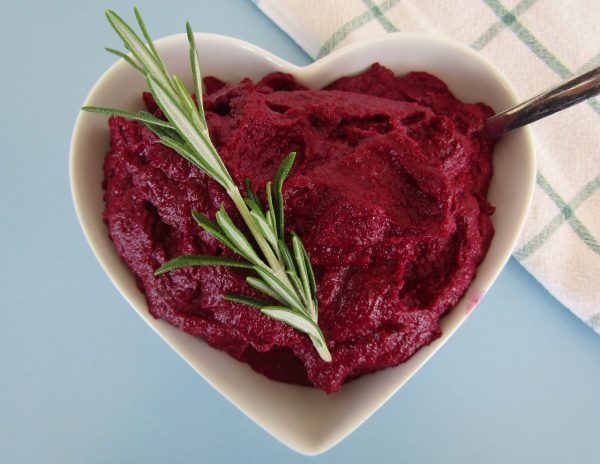 | | |
| --- | --- |
| | |
Wrap the scrubbed beetroot roots individually in foil, place on a baking tray and roast in the over at 200C for 40 minutes to 1 hour until tender (insert a knife into the centre to check that they are done, in the same way that you would for baked potatoes).* Allow to cool in the foil.

Meanwhile, add the walnuts and almonds to a dry frying pan and toast them for a few minutes until the darken just slightly. Measure out the other ingredients and add them to the bowl of a food processor, along with the nuts.

Once cool, unwrap the beetroot and slide the skins off with your fingers. They will come away easily now (beware, you will get very pink stained hands).

Place the beetroot into the food processor with the other ingredients and blitz until they are fully combined. Season with salt and pepper and blitz for a while longer until the hummus is totally smooth and thick.
*The roasting time of the beetroot will vary depending on their size. I find that smaller beetroot - a little larger than a golf ball - are best in terms of flavour and they don't take forever to cook.
Tags:
Beetroot
,
Dairy Free
,
Egg Free
,
Family Friendly
,
Gluten Free
,
Herbs
,
nuts
,
Oil Free
,
picnics
,
Plant Based
,
Vegan
---
---